By Bruce Norris. Melbourne Theatre Company, Victoria. MTC Theatre - Sumner, Southbank Boulevard, Melbourne. Director: Peter Evans. Set and Costume Design: Christina Smith. Lighting Designer: Matt Scott. Composer: Jethro Woodward. Sound Design: Martin Kay. 17 September – 22 October, 2011.
Sure, Clybourne Park is a play about race, and how little we have travelled since the 1950s, but it also offers insight into humanity's territorialism, and the lengths we will go to protect our patch.
Our 'territory', and we all have it, may include our religious preferences, respected institutions such as Rotary and military service, musical tastes, food, memory, political affiliation, as well as culture and race. These preferences, some would call 'security blankets' and others 'prejudices', are linked to a perception of so-called 'standards' and 'traditions', and when these are threatened our territorial instincts kick in.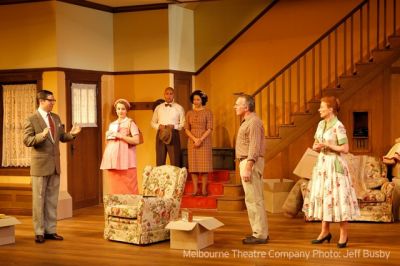 Opening night tonight was all you'd expect from an MTC production, with stellar performances by Greg Stone, Alison Whyte, Zahra Newman, Luke Ryan, Bert LaBonte, Patrick Brammal and Lara Gordon, who delivered the highly engaging script with aplomb, drawing laughs, gasps and stunned silence from the packed auditorium.
Clybourne Park offers a snap shot into the lounge room of one household in the 1959 in act one, and then skips ahead 50 years to the present day after interval. While the cast adopts different characters in each act, there are many links with the ghosts of the past household.
Perhaps personal realisations will bubble to the surface when you consider how many of your close friends belong to a cultural group other than your own.
The set design and lighting served the production admirably, in particular the ability to view action through a window into the front yard.
Coarse language and sexual references will have some flinching, but this play aims to air the dirty laundry without pretension, and trigger some level of self-reflection.
A stunning night out.
Lucy Graham
Images - Top - (L to R) Greg Stone, Alison Whyte and Zahra Newman. Lower - (L to R) Patrick Brammall, Laura Gordon, Bert LaBonté, Zahra Newman, Greg Stone, Alison Whyte. Photographer: Jeff Busby.
To keep up with the latest news and reviews at Stage Whispers, click here to like us on Facebook, or follow us on Twitter.