Adelaide Fringe 2019. Tandanya Arts Café. 20 Feb - 3 Mar, 2019.
Joana Simmons is Joy, the career Group Fitness Instructor, here to lift the lid on the inside story of the fitness industry. This is a high-energy, protein-fuelled 45 minutes of cardio, clowning and confessions. If you've ever been to a group fitness class and wondered about what goes on behind the scenes, this is the show for you. Anyone who has worked as a Group Fitness Instructor will identify with Joy and her "confessions" all too readily. Even if you couldn't care less about the gym, but enjoy a hearty laugh and some cabaret, you can't go wrong with this offering.
Joana Simmons really is a Group Fitness Instructor, with a background in teaching aerobics and yoga. What she delivers as Joy has a firm basis in the realities of working in an industry that at times can appear fickle, image obsessed and highly competitive. And she wraps it in a high energy, high impact, heart-pumping package. Her step technique is to be envied and what she does with a bowl of grapes and a skipping rope has to be seen to be believed. Like any Group Fitness Instructor, she didn't allow the failure of her head mic to perturb her but powered on relentlessly. Joy really is an "en-orgy".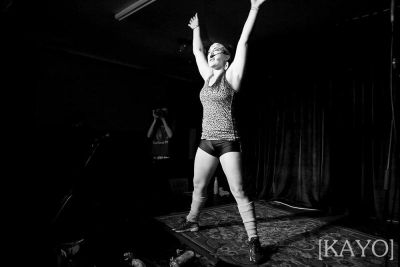 Joy is a pint-sized pocket rocket but what she lacks in stature she makes up for in presence. It's hard to look away as Joy reels off one confession after another. She "takes the lies out of lycra". She tells stories of denying herself treats, followed by rampant binge eating. She relays the difficulties class participants can pose instructors, and the competitiveness and hostility that can spring up between instructors - the whole audience heartily joining in to the chorus of "Aqua Judy" with "La, La, La, La, Die".
Really though, this production is about the problem with body-image in our society, with our desire to attain the unattainable, to aspire to something that is manufactured, that is fake. Joy calls it as it is and that is refreshing, but she wraps it in such a fast-paced, crackling show that you'll hardly notice her do it!
Jenny Fewster