A Belvoir and Lucy Guerin Inc co-production. Belvoir Theatre, Sydney. Choreographer/Director: Lucy Guerin. 25 August – 16 September, 2012.
This is bracing experimental work right at the heart of Sydney's theatre establishment. Based on a nightly eight-minute improvised conversation, six performers — with their iPhones set to the Voice Memo application — explore the recorded words, dig for new meanings, swap roles, present increasingly weird re-imaginings of the original conversation. Three of the cast are billed as actors, three as dancers, though the distinctions are often blurred. Together, using an amplified musical app, they even make a reasonable rock band.
The highly original work springs from Melbourne-based choreographer Lucy Guerin and is the end product of years of intense experimentation. The excellent dance sequences and musical numbers are obviously set pieces, but you'd have to see more than one performance to be sure that each opening conversation was, as claimed, completely different.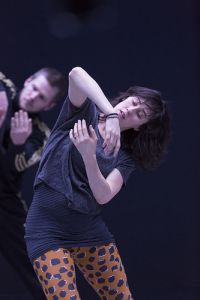 On my night it's a banal, overlapping chat between the three dancers (Alisdair Macindoe, Rennie McDougall, Harriet Ritchie) each recording their own 'parts' on separate iPhones. The deliberately trivial cross-talk covers singer Cher, the TV series Glee, an incident that morning when a toaster caught fire, the efficiency of vitamins and the derivation of the phrase 'play it by ear'.
Then the three actors (Alison Bell, Megan Holloway, Matthew Whittet) enter and, listening via headphones to the recorded words of their 'partners', give an immediate second-hand rendering of the original. This is funny and unsettling and, as the 70-minute performance proceeds, darker variations reveal unspoken meanings and unexpected undercurrents. There's an interrogation, even a mass murder.
The experiment on my night is consistently entertaining and just long enough. Taking a well-deserved bow at the end are the show's six hard-working iPhones. These clever little critters are taking over the world.
Frank Hatherley
Images: Rennie McDougall, Harriet Ritchie & Alisdair MacIndoe and Alisdair MacIndoe & Harriet Ritchie in Conversation Piece. Photographer: Brett Boardman.