By Mozart. Melbourne Opera. Director: Suzanne Chaundy. Musical Director: Greg Hocking. Athanaeum Theatre, Melbourne. July 11 - 18, 2012.
I knew this production was going to be different when things started happening in the overture. Don Alfonso was in his Lygon Street wine bar showing the barmaid the ring he was planning to give to his intended when said lady walked out with another man! He immediately tore down the Alfonso sign and put up a neon sign, "Cosi Fan Tutte", as the title tune appeared late in the overture.
It was a nice touch.
There were similar moments throughout the production, and I also liked the end of the first scene where the other couple on stage stood up, picked up their table and chairs and walked off, and the barmaid helped others push the bar and wall off stage such that we were left with a bare stage for the start of the next scene. It allowed for the action to flow.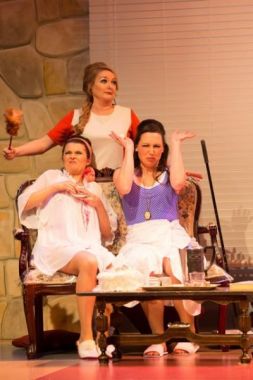 This is the third production I've seen set in the 60s. The other two had the men returning as long-haired bikies, and I remember Guglielmo wooing Dorabella on a monstrous Harley-Davidson. This time they returned as Indian love gurus as we had stoned hippies decorating the stage when the chorus was required.
Cosi is an ensemble opera and it was in the ensembles that the singers shone. In particular, voices were scaled back in the duets and trios to get a beautiful blend with their partners. The first act trio "Soave sia il vento" was a particular highlight.
Ensemble with the orchestra was another matter, with the men getting ahead of the orchestra in the opening scene and the women following suit in the second before they settled down. The orchestra did well, though the brass had problems in Fiordiligi's second aria.
Fiordiligi is one of the most difficult Mozart soprano roles and Danielle Calder coped well with the wide-ranging tessitura and worked well with Victoria Lambourn as Dorabella. Phillip Calcagno as Guglielmo was in fine voice and sometimes overshadowed Roy Best as Ferrando, though Roy had his moments to shine.
Roger Howell was a strong and funny Don Alfonso with his Italian accent. I was not surprised to note that Andrea Creighton had sung Fiordiligi, as one normally expects a soubrette in the role of Despina. She has a lovely voice, but too much like Danielle's.
This was a most enjoyable production.
Graham Ford
Images: Victoria Lambourn as Dorabella and Phillip Calcagno as Guglielmo; Victoria Lambourn as Dorabella, Andrea Creighton as Despina and Danielle Calder as Fiordiligi & Roy Best as Ferrando, Andrea Creighton as Despina and Phillip Calcagno as Guglielmo. Photographer: Robin Halls.