By August Strindberg - a New Version by Duncan Graham. State Theatre Company SA. Space Theatre, Adelaide Festival Centre. July 20 - August 5, 2018
Duncan Graham had studied 19th century playwright August Strindberg's works but had no knowledge of his play Creditors until he saw a production of it in London ten years ago. He was so impacted by the psychological thriller he immediately began adapting the work towards producing it in Australia. The result is the tense, thrillingly surreal and frequently very funny State Theatre Company of South Australia production now being staged at Space Theatre, Adelaide Festival Centre.
In a series of encounters, three characters, including an older male history academic, a young painter turned sculptor and the young artist's slightly older wife, come together on the stylish multi-level outdoor timber deck of a health spa where an infinity pool disappears into a glittering ocean beyond.
Although we are always just as aware of or unsettled by those off stage, the coming together is firstly by the two men, next the artist and his wife and thirdly the older man and the artist's wife. Finally there is a short but shocking scene in which all three are involved. Central to everything is the mysterious and manipulative older man whose true persona, though audience members not already aware of the narrative might guess it earlier, is not voiced until the final section of the one act, one hour and 45 minute play. I will not reveal it here.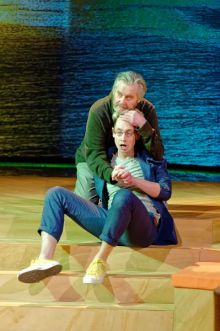 This complex, intellectually poetic play keeps one bemused by its many twists and turns and is at any instant both amusing yet disturbing and confusing yet revelatory. Strindberg had a turbulent marriage and was considered a blatant misogynist. In this play he turns the tables on that perception with his feisty female character Tekla as frequently as he throws misogyny in our faces through the disarmingly charming yet manipulative and vindictive older man.
Manipulation is key to this story, in which an older man uses words and half-truths to seed doubt in both the younger man's perception of his wife and the balance of their male/female relationship, then later, parallel doubts in the mind of the artist's wife. This is a coldly calculating and ultimately lethal deconstruction of a marriage, done by suggestion, all the while with a disarming smile and a ready laugh.
Peter Kowitz embodies the older man Gustav, who happens to befriend young painter and sculptor Adolph at the health spa while Adolph's writer wife Tekla is still on her way there, having been away working. Kowitz gives a towering and controlled performance as a clever, garrulous and charming man, but one whose true persona hides within a snake's skin.
Caroline Craig is superb as the sculptor's wife Tekla. With a flirtatious entrance she instantly lifts us out of the psychologically dense atmosphere created from the first encounter. Craig is wonderfully deft at mood change as Tekla runs the gamut of at first enjoying her usual erotic game of playing "big sister" to her husband's 'role' as "little brother", followed by confusion at the sudden changes in her husband's behavior, then vulnerability later at the hands of the older man. Craig's brilliant performance of the feisty fightback by Tekla would make feminists cheer even if that resistance ultimately achieves nothing.
The performance of actor Matt Crook as the jittery painter and sculptor Adolph, who is thrown into physical illness by Gustav's manipulation of his insecurity and self-doubt, projects the play's blend of the real and the surreal even more than the other two actors. For me this was oddly jarring at first, but certainly very compelling and effective in the context of the play's style that pays homage to Strindberg's wish to "reflect the unconscious through the language of the conscious".
This Duncan Graham adaptation of Strindberg's Creditors has been worth his years of work to fine tune and complete. The production is outstanding, including an excellent set that allows the characters to maintain close proximity to the audience; we are voyeurs in terms of this essay on the psychology of relationships. The soundscape is delicate and wonderful and the lighting nuanced yet unobtrusive. Costumes are perfect for the resort setting.
Director David Mealor ensures the tension builds as the audience watches debt and deception come into play in terms of love. We begin to ask a question: what are the costs of love?
Don't miss your chance to witness State Theatre SA's compelling, clever and deeply absorbing production. The narrative itself has a cost…you won't be able to stop thinking about it.
Lesley Reed
Photographer: Chris Herzfield