by Leoš Janáček. West Australian Opera. Directed by Stuart Maunder. His Majesty's Theatre, Hay St, Perth, WA. 21-28 April, 2018
In the first few moments of West Australian Opera's latest production, a collection of gorgeously attired forest animals crawl, slide and bound on to the stage. It is the first sign that The Cunning Little Vixen is not your usual opera.
Czech composer Leoš Janáček's opera remains very different throughout. Perhaps better described by its alternative English title The Adventures of Vixen Sharp Ears (sharp ears being a euphemism for cunning or clever), it is partly a comic opera, partly family entertainment, with an element of tragedy. The life story of a vixen who is seized by a forester, it is set against the events in the local village.
The title character is played endearingly by Emma Pearson, who combines sweetness with ferocity, in an excellent performance. Her love interest, the Fox, is played with wonderful humour and stunning mezzo voice by Rachelle Durkin.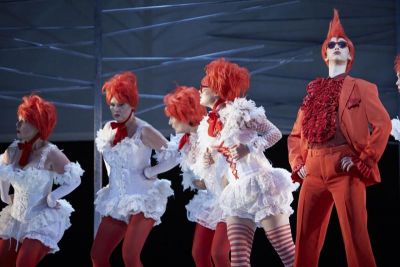 Human characters include the Forester, given depth of character and tone by James Clayton, a lovelorn school master nicely played by Matt Reuben James Ward, the poacher Harašta, sung impressively by Mark Alderson, and the Parson, given beautiful energy and a gorgeous bass voice by Paull-Anthony Kneightley.
Forest dwellers include a wonderfully flamboyant owl, well played by Ileana Rinaldi (who doubles as the Forester's Wife) and a wonderful group played by young performers - Thomas Denver's Cricket, Lucky Farrell's Frog, Bella Freeman's Caterpillar, Madeline Kelly's Snail, Lily Macliver's Grasshopper, Emily Neal's Young Vixen and Rio Haigh and Edward Mirco's Bees.
Excellent support from the West Australian Opera Chorus in a range of smaller roles with Rebecca Castellini's strutting Cock, Prudence Sanders enigmatic Tyrenka and the chorus of hens being particularly memorable.
Richard Roberts' forest set is striking, serving various forest locations and evoking time and season with clever projections and Trudy Dalgeish's emotive lighting. Roger Kirk's costumes are tremendous fun.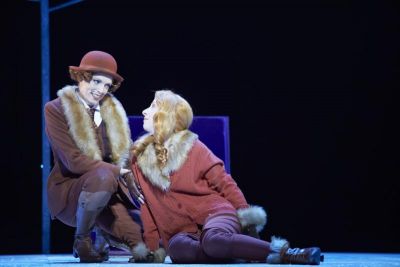 The West Australian Symphony Orchestra were, as always, excellent, in this production conducted by Johannes Fritz.
The Cunning Little Vixen does not have soaring arias or tunes you are likely to belt out in the car on the way home, but it has more movement than you usually see in opera, the wonderful influence of Moravian folk music. This lovely story is expertly performed and has broad appeal.
Great to see a less frequently performed opera, and to see so many children in the audience on opening night. The warm reception for this fun show and the excitement generated augers well for the long term future of opera in WA.
Kimberley Shaw
Images: Emma Pearson as Vixen and Ashlyn Timms as Lapak the Dog, Rebecca Castellini as Cockerel with the Hens, and Rachelle Durkin as the Fox and Emma Pearson as the Vixen. Photographer: James Rogers.