National Theatre Live Season Four Premiere. Participating Cinemas Nationally – Oct 6th and 7th., 2012
Sharmill Films launched Season Four of its National Theatre Live series this week and once again had me salivating at the choices they are presenting. One of the best things about these seasons of live plays on screen is that you don't have to travel to London to see them. But that is also one of the worst things. Your appetite is whetted for the sense of inclusion that an audience at a performance "In the round" might feel, and there is a sense of separation at having the screen as a "4th Wall". Having said that, I can only wonder at how intense and remarkable this must have been for the audience at this filmed performance…..it was quite remarkable even seated in a small cinema, and I yearned to be part of that live audience. Nevertheless, a chance to see brilliant stage productions should be grabbed and relished by all theatre lovers. Sharmill has more goodies for us over the season – for more details see our earlier coverage - http://www.stagewhispers.com.au/news/fourth-season-national-theatre-live...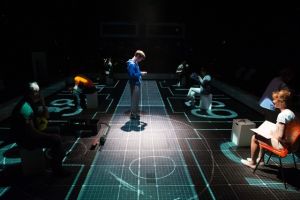 The play itself is award winning playwright Simon Stephens' adaptation of Mark Haddon's best-selling novel – which is our hero Christopher's written account of what happened from the night he discovered Wellington, Mrs Shears' dog, dead and impaled on a garden fork, just a few minutes after midnight. What follows is an investigation into the crime, led by Christopher; but more importantly a journey to truth, and growth and self. Christopher is autistic, with severe Asperger's – a fifteen year old boy with a brilliant brain that simply doesn't compute emotion or empathy. He has never been beyond the end of his road until he sets off on his journey of discovery. It's an astonishing role played by an even more astonishing young actor, Luke Treadaway, who, although 28 years old, is completely convincing as a dysfunctional 15 year old. Since the entire play is through his point of view, we virtually take a trip through the chaotic yet strangely ordered (just one paradox) world of his brain. Alongside Treadaway's brilliant performance is the stunning design, by Bunny Christie and an expert team, of the autism spectrum….the map of Christopher's understanding. This includes video, music and lighting and sound design of the highest order. Flat, projected, images used horizontally take on the characteristics of a three dimensional vertical set, and the actors' movements provide extra dimension when needed. Director Marianne Elliott (of Tony winning War Horse fame) is nothing less than brilliant in her handling of the cast and the material.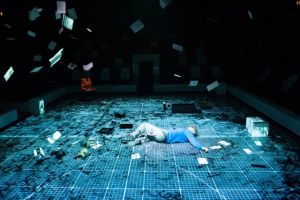 The supporting cast includes some of Britain's finest actors. Niamh Cusack, as Luke's "special needs" teacher Siobhan is compelling and compassionate. Paul Ritter as his Dad, Ed, an ordinary man trying to deal with extraordinary circumstances and a child with a disability, portrays that rare combination of love and frustration that any father would feel. Nicola Walker (I always loved her as Ruth in Spooks) is Judy, the mother Christopher believed had died, only to discover she left him because she simply couldn't cope. Her performance is heart-breaking and touching, yet with an edge of selfishness which keeps us in a constant state of flux. Of the remaining very excellent cast, Una Stubbs, long a British favourite, makes her mark as the surrogate granny, Mrs Alexander. But it's Treadaway's play to own, in one of the most astonishing performances you will ever see.
Coral Drouyn