Play by Simon Stephens based on the novel by Mark Haddon. Director: Marianne Elliott. National Theatre of Great Britain. Concert Hall, QPAC. 12 – 24 June 2018 (and touring)
When it opened in London in 2012 The Curious Incident of the Dog in the Night-Time consolidated the acclaim heaped upon director Marianne Elliot following her groundbreaking War Horse.
Curious Incident is a stunning production that blisters with invention and theatricality. The play went on to win Olivier and Tony Awards and has since spawned several tours. It's based on Mark Haddon's best-selling novel about Christopher, a fifteen year-old boy suffering with Aspergers syndrome, and his search for the killer of a neighbour's dog which leads him to his first trip to London and a reunion with his long-thought dead, mother. Unlike the novel, which is written in the first person, it becomes a play-within-a-play in Simon Stephens' skilful adaptation, with the character of his teacher Siobhan, narrating from Christopher's self-penned book of adventures.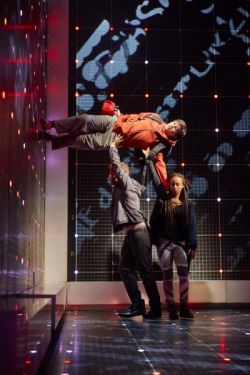 The world is seen from his perspective and Elliot's minimalist vision of it is electric. At the top of the second act when Christopher is plucked from the path of a speeding train in London's underground, it's not only hair-raising but one of the most pulsating and exciting moments we've seen on stage. The fact that it's all done with sound and lights is even more incredible.
With the exception of Christopher, his parents and his teacher, the ensemble cast of UK actors play multiple roles in a stylised physical performance. Looking more mid-twenties than fifteen, Joshua Jenkins, who played the role on the UK tour, is gauche, irritating and totally believable as a boy who is confused by metaphors but finds algebra and numbers a walk in the park.
Bringing order and warmth to his world was Julie Hale's Siobhan, a kindly special-needs teacher who oozed with compassion. Stuart Laing's father, Ed, showed a man out of his depth in a difficult home scenario, whilst Emma Beattie's Judy, brought sympathy and some understanding to a mother who regretted her past monumental mistakes.
Bunny Christie's design, Paule Constable's lighting, and Finn Ross' video were superb, as was Adrian Sutton's music and Ian Dickinson's sound.
Like War Horse, Elliot's direction was a dazzling tour-de-force, pulling emotion from the touching reunion of Christopher and his mom, and sentiment from his father's bonding gift. Dramatically the play has its minor flaws, but there's no denying its overall impact. With the production values of a big West End musical Curious Incident is a guaranteed crowd-pleaser.
Peter Pinne
Photos: Brinkhoff Mögenburg