By Rupert Holmes, Fred Ebb and John Kander. Playlovers. Director: Kristen Twynam-Perkins. Hackett Hall, Floreat (WA). September 13 – 28, 2013.
This well produced murder mystery delighted its capacity audiences. Gorgeously cast, ensemble and leads were impressive in this production that looked divine.
Leading couple Tyler Jones and Claire Taylor were simply delightful and lit up the stage. A strong supporting cast included the charming Therese Cruise, the very funny Helen Carey, an earnest Tom Hutton and surprisingly sleazy David Young. David Nelson was in his element as a campy theatre director while Tamara Woolrych made a perfect fifties era ingenue. David Wallace was lovely in his smaller role as the leading man of the show within a show, while Robert Woods played the villain with precision.
The ensemble were very strong, with the young gentlemen being particularly precise, executing Tammy Rafferty's imaginative choreography very nicely.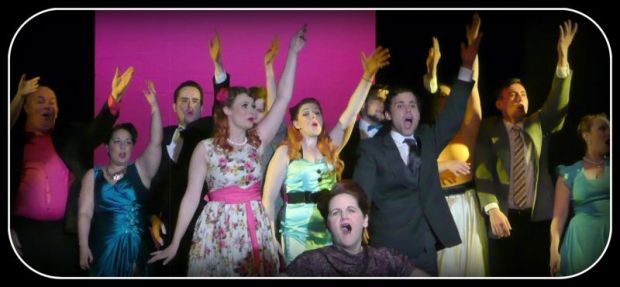 Belinda Flindell was at the helm of the music direction. Vocally the show was excellent, but the orchestra, under the baton of Krispin Maesalu was a little uneven. Unfortunately sound operation let down the team somewhat, with mikes left live when offstage and some sound balance not up to the standard of the rest of the production.
A fun show that deserved its popular acclaim and sell out shows.
Kimberley Shaw