By Gideon Obarzanek. Sydney Theatre Company. Wharf 2 Theatre. April 3 – May 11, 2013.
This compassionate two-hander about why a bloke wants to learn ballroom dancing was one of the stories used by choreographer Gideon Obarzanek in his 2004 dance work with Chunky Move, I Want To Dance Better At Parties.
Now no longer running his Melbourne-based dance company, Obarzanek returns to this story for what is his first text based work.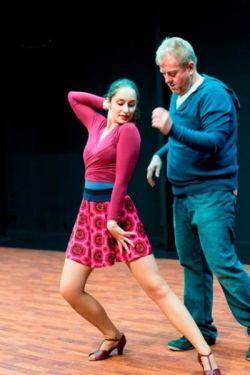 Dave is a slumped-shouldered, slouch who wants to learn a bit of agility at picking up chicks. In a fluoro-lit cavern of a dance studio, at the complimentary first lesson, Rachel promises she can deliver. We then watch Dave slowly develop under her lithe professional touch – one step back, two steps forward – through a set of ten lessons and final presentation, and we see his secret grief unfurl. There's a nice dig at those dreadful dance reality shows that this one could so easily trip into.
What redeems this simple story is the dignity and pathos of Steve Rodger's Dave, despite his two left feet, and the grace and enigma of Elizabeth Nabben as Rachel. Her story is less explored and that's a lost opportunity. Otherwise, Obarnazek's script and direction is impressive in its stuttering dialogue and awkward pauses and, ultimately, its reliance on the choreography by Jessica Prince to reveal the drama. Nabben may come from an acting background but she is also masterful as the dancer instructor.
Dance Better At Parties is grounded by Obarzanek's passionate quest to find meaning and social context for his choreography. Here he moves confidently into the realm of words to artfully combine forms and tell a very moving human story.
Martin Portus
Images: Elizabeth Nabben and Steve Rodgers in Sydney Theatre Company's Dance Better at Parties by Gideon Obarzanek. Photographer: Brett Boardman