By August Strindberg. Belvoir St Theatre. November 10 – December 23, 2018
Constantly revived, August Strindberg's portrait of a murderously unhappy marriage on their silver anniversary, has been a honey pot for star actors for decades.
Star actor herself, Judy Davis here turns again to directing her husband, Colin Friels, matched with the celebrated Pamela Rabe. Living in an old Swedish island fortress, Edgar is a retired captain of uncertain health and Alice a former, probably bad, actress plotting his end.
Their vicious games and bickering have long since driven away their children and now the last servant (Giorgia Avery) is out the door. Desperate for new meat – and alliances – they welcome the visit of Alice's naïve cousin, Kurt (Toby Schmitz), who was their matchmaker 25 years ago.
Blood and dark scum drip from the walls of Brian Thomson's ghoulish set, with the fortress home an island in a moat of blood and rubbish. An upright piano is pounded and other period furniture regularly kicked over in a production heavy with engaging physical comedy, especially when Rabe turns hysterical. Colin Friels is the rock of the production as the quizzically deceiving and overbearing old soldier.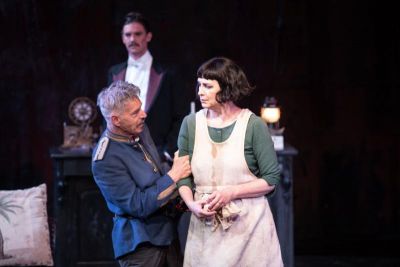 What begins – and ends - almost naturistically as a long marriage oddly companionable in its discord, turns to surrealistic intrigue with Kurt's arrival. Rabe seduces him in an arch display of vaudeville entertainment but Schmitz, overly declamatory and miscast perhaps as looking too young and handsome, struggles to find depth as her pawn and the marital interloper.
Davis' production is undeniably a comic riot but, instead of matching Paul Charlier's dark musical punctuation, is also too quick to play laughs above the pain and loneliness. Those stylistic transitions required more care. It's one thing I and my partner of 26 years agree on.
Martin Portus
Photographer: Lisa Tomasetti