Niwa Gekidan Penino. OzAsia Festival. Her Majesty's Theatre, Adelaide. 3-4th October, 2017
Kuro Tanino, playwright, director, set designer and founding member of theatre collective Niwa Gekidan Penino, has brought his latest work to the Adelaide stage as part of the OzAsia Festival. Made for a Japanese audience, The Dark Inn is written in Toyama dialect. For those not familiar with the language, it is translated in English subtitles via large screens on either side of the performing space.
A Japanese drama is set in the secluded northwest mountains, home to a run-down bath house. Although the owner has died, residents frequent the inn during the warmer months to enjoy the remoteness and hot springs. In return they keep the place running.
A son and his (dwarf) father are invited by letter to perform their puppet show. Upon arrival they are met with an eerie silence. There is no owner and no clue as to who wrote the letter. So begins a story of intrigue, as we are slowly introduced to an eccentric bunch of characters; a blind man who believes the springs will one day help him see, a mute maintenance man with voyeuristic tendencies, a couple of Geishas with a penchant for sake and an old woman who, unable to have children of her own, takes on the role of matriarch.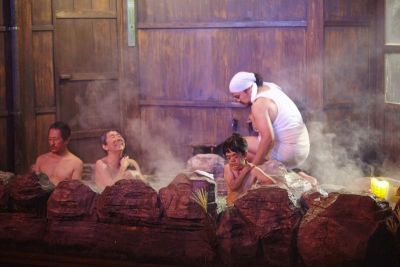 The action takes place on a revolving set, giving us a glimpse into the realities of everyday existence. It breathes seclusion and cleverly allows the audience to experience the ambience of the four rooms. Breath-taking in design, it allows one to be absorbed in it during the quiet moments of the production…and there are many times when the story almost comes to a standstill. Some may balk at the lack of pace, yet the pauses are deliberate.
Whilst delving into the psyche of the characters, the true story gets lost in translation. Are we to believe that the puppet has demonic power? Was the letter in fact written by the puppeteers themselves? What the playwright is trying to communicate is as ambiguous as the motivations of the characters and therefore, although visually appealing, the tale is laboured in its delivery.
As the play concludes we hear the sound of construction of the near-by bullet train. The world is evolving and we are left to wonder whether the residents of The Dark Inn will follow suit.
Kerry Cooper
Photographer: Shinsuke Sugino