By Richard Wagner. Hamburg State Opera, Hamburg Philharmonic Orchestra. Conductor: Simone Young. Concert Hall, QPAC, Brisbane, 23 & 25 August, 2012.
Innumerable curtain calls and a thunderous standing ovation for Australian conductor Simone Young marked the opening night concert performance of Wagner's Das Reingold, the innaugural production of Queensland Performing Arts Centre's Hamburg Season.
Producers Leo Schofield and Ian McRae's vision to bring the Hamburg Philharmonic Orchestra, Hamburg State Opera and Hamburg Ballet to Brisbane will go down in history as one of the city's greatest artistic triumphs. It might have been Schofield and McRae's vision to bring the company to the river city, but it was Simone Young's vision to perform Das Reingold the first opera in Wagner's famous Ring cycle. It was the perfect showcase for the Philharmonic and the State Opera. Divorced of theatrical illusion, the concert platform enabled the audience to immerse themselves totally in Wagner's complex and lyrical score about the theft of the magic gold from the Rhinemaidens and the subsequent repercussions of it.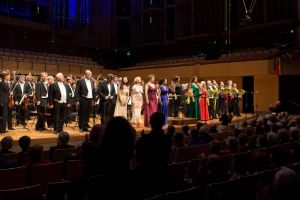 It was Simone Young's night. Currently the world's most acclaimed interpreter of the Ring cycleshe conducted the performance with obvious fire and passion. The singers were exemplary, especially Falk Struckmann as Wotan, Eike Wilm Schulte as Alberich, Vida Mikneviciute as Freia, and Jurgen Sacher an audience favorite as Loge. Played without an interval, at two and a half hours it was a long night, but the brilliance of the performers and orchestra made it a night to remember.
The Hamburg Season continues with Mahler Symphony No. 2 with the Hamburg Philharmonic Orchestra conducted by Simone Young, 24 August 2012, Nijinsky with the Hamburg Ballet, 26 August 2012, and A Midsummer Night's Dream also with the Hamburg Ballet, 30 August 2012.
Peter Pinne
Photographer: Darren Thomas