Festival Theatre, Adelaide. Adelaide Cabaret Festival. June 8, 2014
It's easy to be cynical about the central premise of "Davi Sings Sinatra" – history is filled with musically limited actors who have used their fame in another medium to get what amount to embarrassing vanity projects off the ground (Bruce Willis' "The Return Of Bruno" or William Shatner's "The Transformed Man" anybody?). Also, Frank Sinatra's repertoire is so well known, and has been covered so frequently by such a wide variety of different singers over the years, one would be forgiven for thinking it is impossible to make songs as overexposed as "Come Fly With Me" feel fresh. But such scepticism is ultimately unwarranted in the case of Robert Davi, a movie star so musically gifted that he really could quit his "day job" if he wanted to and whose intelligent, impassioned interpretations of The Great American Songbook really leave one with the impression that they are hearing old standards performed for the very first time.
Davi has played a wide variety of roles in over a hundred films, but he is probably best known to the general public for playing tough guys in various action movies, such as "Licence To Kill", "Die Hard", "Predator 2" and the upcoming "Expendables 3". What's less well known is that he is a classically trained singer, and that one of his earliest acting gigs was in a TV-movie called "Contract On Cherry Street" in which he starred alongside the man himself, Frank Sinatra – who would become a friend and mentor to young Robert.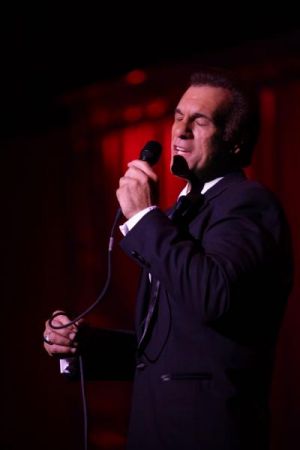 Davi's personal connection to both the man and the music is readily apparent not only in his smooth, technically impeccable vocal phrasing, but in the emotional gravitas that he brings to his rendition of each song. Davi projects the same kind of confident swagger and laconic charm one associates with Frankie, but without ever aping his mentor's signature mannerisms or stooping to mere impersonation. Indeed many of the songs performed serve to demonstrate that Davi is a much more dynamic actor than Sinatra ever was - investing such songs as "Send In The Clowns", "Ol' Man River", "Luck Be A Lady" and "Moonlight In Vermont", with a level of complex, layered nuance lacking in his idol's more famous renditions. Davi's backing band play out these tunes with the same mixture of technical finesse and impassioned enthusiasm as their lead singer, Randy Waldman's musical arrangements are strikingly bold.
Davi's stage-patter is amusing. His demeanour is affably self-effacing, tossing out some rather cheezy jokes at the expense of his film career, in between heartfelt monologues in which he relates more serious, personal experiences. He does come across as a bit earnest at times, waxing lyrical about how influential and accomplished Sinatra was – as if the assembled audience at the Adelaide Cabaret Festival didn't already know. Still, it would be churlish to criticise Davi for preaching to choir, his "gee-whiz" fanboyish enthusiasm is a large part of what makes his act endearing and is obviously something the crowd could relate to… his performance was greeted with two well-deserved standing ovations.
I would urge anyone with an appreciation of The Great American Songbook, or even a mild curiosity about it, to take a chance on Davi, given the opportunity. I also hope that, now film-musicals are back in vogue, Hollywood finds a way to make use of this man's extraordinary musical talents.
Benjamin Orchard