Adapted by Maryam Master. Directed by Susanna Dowling. Heath Ledger Theatre, State Theatre Centre of WA. Jan 28-Feb 2, 2020
David Walliams is probably the most popular author for young readers at the moment, with his madcap books being devoured by young readers. It shouldn't be surprising that this show, nearing the end of its multi-city tour, is attracting capacity crowds.
In The Midnight Gang, a group of children's ward patients, and an unlikely looking hospital porter, form a late night society to grant the wishes of sick children.
CDP Kids' set designed by Isla Shaw, beautifully creates the decrepit St Crooks' hospital, which, along with accents and some of the dialogue, sets this St Crooks in Sydney, rather than in the UK. Matthew Marshall has created some great night time lighting design, with some funky sound by James Brown.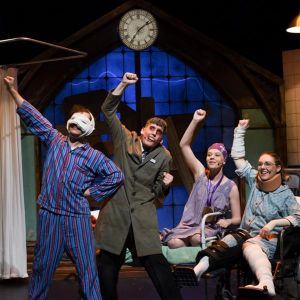 Great high energy performances throughout, from a cast who not only manage to create convincing pre-teen characters but play multiple roles with frenetic costume changes and maintain a galloping pace over several shows a day. Alex Beauman is likeable and relatable as central character Tom. Lucy Herffernan is an utterly charming Sally, while also playing the gloriously over-the-top evil matron and elderly Nelly. Amber Kew is great fun as bossy and physically incapacitated Amber. Nicholas Starte brings great physical humour to the temporarily blinded George, and transforms nicely into a frazzled doctor and Sir Quentin. Completing the cast is Kyle Kaczmarczyk, originally from Perth, who pops into several roles, but is excellent as the physically different Porter.
A lovely journey which shows children using their imagination to create magic, hopefully inspiring the audience to do the same. A wonderful story of friendship and not judging a book by its cover, it was well received by its young fans, but also brought tears to the eyes of the parents and grandparents in the audience. Very touching theatre.
Kimberley Shaw