By Alana Valentine. Director Anne-Louise Rentell. Merrigong Theatre Co. Gordon Theatre Wollongong. August 28 – September 7, 2013
A real and disastrous train crash on the south coast train line near Waterfall, ten years ago, is the subject of this unique piece of theatre. Some years ago Merrigong Theatre Company stated that they wanted to tell "stories of local relevance but universal resonance", a fine ambition for a regional theatrical producer, and this production honours this in many ways.
Extensive interviews were done by the writer to record the experiences of some of the real people – the travellers, their relatives, the police and rescue services affected by this train crash Members of the cast have several 'characters' to portray, and their ability to convince us in each of their incarnations was most intense and moving. This ensemble cast held us suspended in interest while they told us of their experiences, their loss, their bravery, their horror, yet the fulfillment of somehow being able to cope, to help, to comfort.
All the cast were vocally impressive during the transition from speaking to singing. The sound balance between underscoring singing and principal vocals was sometimes a little out of kilter. Also, the lyrics of the songs were often difficult to understand – some of the wonderful prose and poetry in the lyrics did not come through – perhaps due to consonants not being stressed at the end of words, perhaps the vocal song lines stressing the sound, rather than the words. This is a personal criticism of all modern music- the lyrics are IMPORTANT – the audiences needs to know what you are singing about.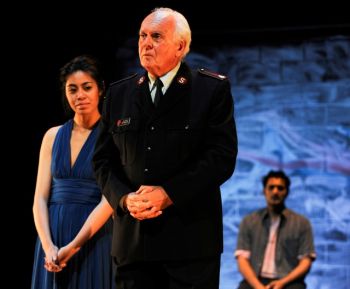 The technical side of this performance was excellent - the set- abstract but most appropriate, the lighting by Tony Knyvett - extremely evocative of the mood of the piece, adding to the intensity of the emotions being shown and felt, the sound effects were chilling – sometimes hitting us right in the solar plexus. Daryl Wallace, the composer was also responsible for this which coalesced into a fitting soundscape for the play.
The cast members are Alicia Battestini, Nicholas Brown, Gerard Carroll, Sabryna Te'o, Phillip Hinton. Drayton Morley and Katrina Retallick.
The sure hand of the director - Anne-Louise Rentell was evident in every aspect of the performance.
An added bonus on this Saturday night performance was at the curtain call, when the real life people who had given the interviews, and somehow re-lived this tragedy and its ramifications, were called up to the stage, and it was so intriguing to see them connecting with the actors who portrayed them, and to have them receive the wonderful ovations which this special audience gave them. The reception given to the performance by the full house, was long and loud and well deserved for this excellent new piece of Australian drama.
Robina Beard
Photographer: Heidrun Lohr.