By Arthur Miller. Belvoir Theatre, Sydney. Director: Simon Stone. 23 June – 19 August, 2012.
Colin Friels playing tragically deluded Willy Loman sounded so good the Belvoir season was extended to eight weeks well before opening night and tickets are being sold in record numbers. No worries, Friels is magnificent. Never off the broad and mainly empty stage, he suffers, squirms, regrets and rages throughout an ever deteriorating 'dark night of the soul' in a volcanic performance guaranteed to win the year's Best Actor awards.
But this is not your standard production of Arthur Miller's 1949 classic, one of the 20th century's greatest dramatic works. It's directed by the Belvoir's wunderkind resident director Simon Stone, who specialises in rebooting classic texts — repositioning them to Australia, updating them to now, rewriting dialogue as he pleases. This pays dividends with obscure texts like Eugene O'Neill's Strange Interlude, his very recent Belvoir production. What, one wondered nervously, need he subtract from Miller's masterpiece?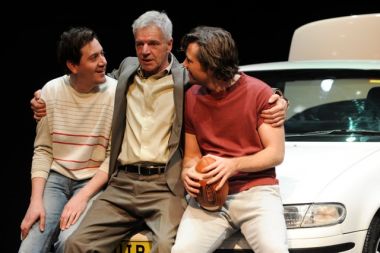 Well, he clears away the author's complex setting — the kitchen, the bedrooms, the hemmed-in yard — replacing it with just Willy's white motor car (only a sound effect in the original) against the theatre's brick walls painted black. That's all. Every scene is played in and around this potent symbol of Willy's travelling salesman's life. And though costumes, props and auto are modern, Miller's text is unchanged beyond tactful trimmings, and delivered throughout in contemporary Australian accents.
All this takes some getting used to — for me, most of the first act. These modern Aussies confusingly talk about Brooklyn, Yonkers, Studebaker cars, earning $28 a week, buying a ranch for $8000, playing American football, listening to Jack Benny on the radio. This must surely be the first-ever production of Salesman to feature a working iPad.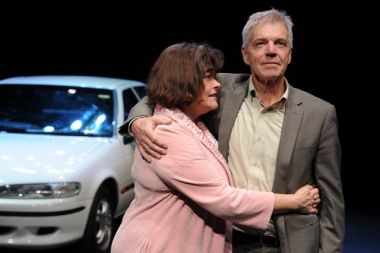 But by the riveting second act such difficulties fade before the onslaught of Miller's bitter passion and the general excellence of all concerned, lead by the deeply committed Friels shaking his betrayed fist at Fate. He is perfectly matched by Genevieve Lemon as loyal wife Linda, sadly implicated in sustaining Willy's American Dream delusions, and by Patrick Brammall and Hamish Michael as his tricked and troubled sons, Biff and Happy.
The Act Two action flows like a spiralling nightmare. Simon Stone is certainly a commanding, groundbreaking, young (only 27!) director, unafraid to experiment and to let his actors rip when each climax calls. There would be a lot of 'scenery chewing' going on here if only there had been a stick of scenery to chew.
Frank Hatherley
images: Top - Colin Friels; Middle - Hamish Michael, Colin Friels and Patrick Brammall & Lower - Genevieve Lemon and Colin Friels. Photographer: Heidrun Lohr