By Terence Rattigan. Sydney Theatre Company. Roslyn Packer Theatre. Feb 4 – Mar 7, 2020
Terence Rattigan wrote this once searing domestic portrait of class, shame and lost love reportedly after the suicide of a male lover. The play however centres on a suicidal woman who leaves her marriage to a judge, only to be abandoned by her alcoholic lover; it was a West End hit in 1952, and beyond.
Rattigan, later Sir Terence, shows himself a master of dialogue and slowly unfolding plot in this neat three-act story, as over one day a host of characters parade through Hester Collyer's crummy London flat.
Her cool but fond husband, Sir William (Matt Day, is perplexed she won't return home, while Freddie (Fayssal Bazzi), a former RAF test pilot now lost to boozy egocentricity, is exasperated he can't love Hester enough to protect her from self- harm. Hester continues to crumble, the daughter of a clergyman unable to find the intense physical love she craves.
Snoopy and self-righteous neighbour Philip (Brandon McClelland) isn't much help, but his wife (Contessa Treffone) at least moves from wide-eyed gossiper to true care for Hester, while Vanessa Downing shines as her salt-of-the earth landlady.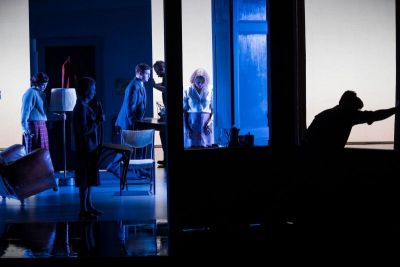 Freddie's mate (Charlie Gerber) reluctantly drops by, and Paul Capsis (as Paul Capsis!) playing the enigmatic, here campy "doctor" from upstairs, is inspired casting.
Paige Rattray's problem is that most actors are in different plays and certainly countries, with a carelessnesss in accents which defies the play's very British idiom and attitudes, even in a revival.
David Fleischer's huge set pieces on rollers wonderfully crowd Hester as they reassemble every act, but the play demands far more claustrophobia and oppression. In the cavernous Ros Packer Theatre, the cast, while strong, give way to some signal acting.
Best at centre is the magnetic Marta Dusseldorf as Hester, ever nervy, her long frame often folding to the floor, but still with her masks and voices of lover, wife and smart rectory girl. Her anguish though adds much needed tension but, even if the shaming of 1952 Britain happily now seems dated, her supposed rebirth to self-acceptance is inexplicable.
Martin Portus
Photographer: Daniel Boud