By Francis Poulenc. Melbourne Conservatorium of Music. Director: Jane Davidson. Conductor: Richard Davis. Rosina Auditorium, Abbotsford Convent. Aug 30 to Sep 1, 2018
Poulenc's opera Dialogues Des Carmëlites is one of the masterpieces of the twentieth century. It is a powerful opera set during the French Revolution, based on an actual incident when some Carmelite nuns were sent to the guillotine.
The set was interesting, with folding doors close to the front of the stage, and sometimes angry crowds appeared behind the doors. At other times they were distributed around the perimeter of the auditorium. There was a ramp to a circular area in the middle of the auditorium, and another ramp down to the floor. This allowed for scenes to move from one area to another without delay. Clever lighting facilitated this.
The orchestra was to one side of the stage, and congratulations to conductor Richard Davis for allowing his young singers to be supported, but not overwhelmed. The orchestral playing was tight, a credit to the students.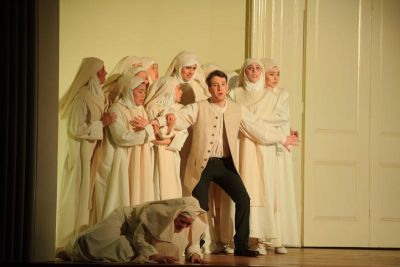 Teresa Ingrilli was a vulnerable Blanche, escaping from the world she didn't trust into the convent, to find that wasn't safe either. We felt her torment as she negotiated her way through a dangerous world. Amelia Wawrzon was her bubbly companion at the convent, Sister Constance, trying to cheer her up.
Heather Fletcher was a powerful Madame de Croissy and Rebekah Luise a strong Mother Maria. Lucas de Jong was impressive as Blanche's father.
This was an ensemble opera with many roles, though two promising tenors stood out – Thomas Harvey as Blanche's brother and Ben Glover as the Father Confessor. The large chorus was thrilling.
This was a night of powerful drama at the opera, well sustained by singers we will hear a lot more of in the future.
Graham Ford
Photographer: Sarah Walker