Writers: Phil Scott & Trevor Ashley. Brisbane Festival. Musical Director: John Foreman OAM. Concert Hall, QPAC. Friday 29 September 2017.
Nobody does it like Dame Shirley Bassey, but I have to admit that cabaret artist Trevor Ashley comes very close indeed. His latest foray into the world of "diva drag" pays tribute to the songs, frocks, sequins and big hair of the girl from Tiger Bay in Wales (UK).
In Diamonds Are For Trevor, Ashley leads us through the Shirley Bassey catalogue of hits, from her first big smash Kiss Me Honey Honey, to more recent songs such as her bigger than big version of Pink's Get This Party Started, and History Repeating by the Propellerheads.
Like his previous one person cabaret shows Liza on an E, Liza's Back (is broken) and I'm Every Woman, you're never quite sure if he is praising or parodying his subject. However, Diamonds Are For Trevor is a thoroughly fun and entertaining show, and Ashley had the enthusiastic audience in the palm of his hand from the moment he stepped on stage until the brassy finale.
To say that Ashley is larger than life is an understatement – he takes command of the stage, in fact he takes command of the whole auditorium, as he belts out all the big numbers. He then takes us on a hilarious journey with some wonderful sequences of linking patter courtesy of his co-writer Phil Scott. And those in the know get every single joke.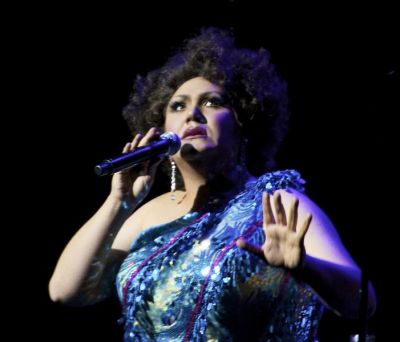 It was hard to wipe the smile off my face during the entire concert (a good feeling) as "Dame Shirley" regaled us with tales of ex-husbands (both gay and straight), provided us with plenty of running gags, and reminded us how other singers may have sung her songs - "but I did it better!"
Ashley's "Dame Shirley" is so much more than just an impersonation, it is almost like a reincarnation. He has every single one of Bassey's signature hand gestures and mannerisms down pat, and vocally delivers every song with the required Bassey bravado.
John Foreman as Musical Director/Conductor/Pianist certainly had his job cut out for him leading the Queensland Symphony Orchestra in full flight through the Bassey catalogue of hits including 70s favourites such as Something, Never Never Never and This Is My Life, plus the obligatory Bond themes Diamonds Are Forever and the magnificent Goldfinger, and the showstopper Hey Big Spender. Foreman also acted as Ashley's straight man and gopher, pandering to the diva's needs throughout the concert.
Matthew Marshall provided some wonderful showbiz lighting states and costume designer Tim Chappel created some truly spectacular gowns for "Dame Shirley" to strut her stuff in, one that included an 11 metre feather boa which Ashley used to maximum comic effect.
To show her love for the land down under "Dame Shirley" also added an Australian touch to the concert by including her own special versions of Tina Arena's Chains and the Jimmy Barnes classic Working Class Man, both of which worked a charm.
Now that Dame Shirley Bassey, who turned 80 earlier this year, has retired from touring, Trevor Ashley's version of "Dame Shirley" is definitely the next best thing.
Paul Dellit OAM
Photographer: John McRae]