Music by Johann Strauss II, German libretto by Karl Haffner and Richard Genee, English libretto freely adapted by Robert Ray. Directed by Robert Ray; Musical Director Alan Cook. Gilbert and Sulliivan Opera Victoria orchestra and chorus, Melbourne. Opening Night – July 26, 2019.
Die Fledermaus is such a well-known property that GSOV were able to draw on the Gilbert and Sullivan tradition of tweaking a production, and set the operetta in turn-of-the-century Vienna, which allowed for attractive Art Nouveau sets and costuming.
Robert Ray's freely-adapted libretto is fresh, funny and often charming, avoiding the usual clunkiness of English settings of foreign-language works.
The cast has a lot of fun with the operetta. Tenor Stephen Carolane, as amorous Italian tenor Alfredo, serenades his now-married love, Rosalinda in the opening scene. Rosalinda is unable to resist his singing, and much is made of Alfredo's need to "finish his aria". Carolane's performance throughout the show was high-energy, funny and a beautifully-delivered a capella pastiche of not-inconsiderable Italian operatic arias; very often stealing the scenes he was in.
Newcomer Ryan Hayward played Dr Falke (the titular "Dr Bat"); still smarting three years after Eisenstein ridiculed him publicly. Hayward allowed that simmering resentment - pressed into manipulative service making everyone else dance to his tune - to glint through his hail-fellow-well-met persona, and his baritone voice was very solid in the role.
Lana Lowry and Finn Gilheany were perfectly cast as the vapid, self-involved and self-indulgent Rosalinda and Eisenstein. Lowry's fluttery acting and breathy notes as a casually-playful housewife in the first act were replaced by a more purposeful performance as the mysterious "Hungarian Countess" in Act 2, although she audibly struggled with the famous Csardas. The final act was more secure. Finn Gilheany was suitably blustery, brash and charming as the indulged Eisenstein, and his bright tenor voice deftly navigated the demands of Strauss's score (quite often while dancing).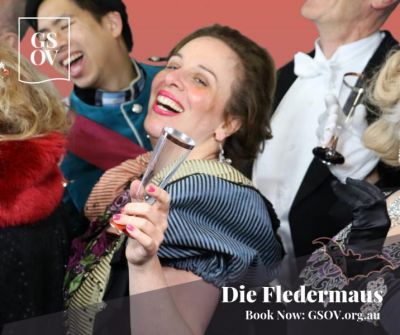 There is, however, an almost-thankless aspect to these two main roles, as they end up playing the "straight" version of themselves as predictable foils to an ensemble brimful of fabulous character roles.
Following Carolane and Hayward, leading the charge is Jane Magao as the hustling and irreverent Adele, an aspiring actress, and slyly sarcastic parlour maid for the Eisensteins. Magao's coloratura soprano soared in the ensembles as well as the iconic Audition Song and Laughing Song, showing mastery both in the musical elements of the role, and in some finely-judged comedic moments. Adele needs to be natural and fun while she's having fun, and Magao never allowed Adele to become too arch. She was ably supported by Nadia Migliardi in the non-singing role of Ida, Adele's opportunistic and fun-loving sister; Migliardi's expressive face and worldliness adding depth and texture to her scenes with Adele and Frank.
Ron Mack enjoyed his role as the hapless Dr Blind, a stuttering lawyer trying his best to save the ridiculous Eisenstein from himself. And another minor but beautifully-played role was Ron Pidcock as Frosch the (very very drunken) jailer. Frosch has to hold the audience's attention solo throughout an entire scene (with help from an offstage Stephen Carolane playfully singing more Italian arias) and he shows himself to be genuinely funny, landing all of his jokes while simultaneously portraying a humorless Austrian.
Rounding out the cast were Marissa Economo in the 'pants' role of Prince Orlovsky: she brought great presence, commitment (and an unwavering Russian accent) to her character of the desperately-bored aristocrat. Economo's rich mezzo and dancing skills were more than equal to the iconic Chacun a son gout ("Each to his own") and the Ode to Champagne.
Andrew McGrail gave an expansive performance as the prison warden Frank (transformed in the party scene to the "Chevalier de Chagrin"), brimful of both bonhomie and delight in the slightly predatory Adele and Ida, as well as morning-after ruefulness the next day at the prison. McGrail was able to switch easily from his growing bromance with Eisenstein at the party, to surly but hilarious interactions with the equally-drunk Frosch, and even to his ridiculous scene with Alfredo at the Eisenstein house. where he attempts to look responsible and competent, but still manages to arrest an overtly Italian man in place of an Austrian. Like Pidcock, McGrail easily held the audience's attention solo for an entire (non-speaking) scene.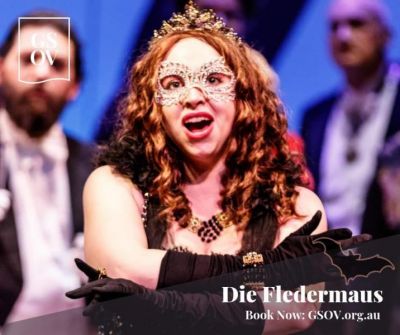 A special appearance was made for the Divertissment by "Queen Victoria" - GSOV member Rachel Buckley complete with crinoline - and utterly hilarious as she sang her way through an updated version of Then one of us shall be a Queen from The Gondoliers, supported by four male chorus members.
The chorus gave great support in general to the principals, making short work of the various choruses such as the Ode to Champagne, and the more lyrical Brudelein und Schwesterlein - a genuinely lovely moment - and projecting a great sense of fun without being intrusive.
The GSOV orchestra under the baton of Musical Director Alan Cook had issues with their general ensemble at the beginning of the night, but handled the flourishes and stylistic demands of Strauss's score as the show progressed.
The production as a whole occasionally lost the fizz and sparkle of its muse champagne (mostly down to pacing issues, with the occasional memory lapse losing valuable momentum) but was still on balance a delightful night of classic operetta.
Alex Armstrong