By Wagner. Opera Australia. Director: Kasper Holten. Revival Director: Dan Dooner. Conductor: Pietari Inkinen. Arts Centre Melbourne, State Theatre. November 13 – 22, 2018
Wagner's comic opera, Die Meistersinger von Nürnberg, made a triumphant return to the Arts Centre last night. The sweep of the music and the power of the production kept the audience enthralled at a very long night at the opera.
Orchestra Victoria was in fine form, and there was added interest when some brass and percussion took up positions in the boxes at the side. The chorus singing was thrilling.
Hans Sachs was sung beautifully by German Michael Kupfer-Radercky, who conveyed a nobility and stillness to this pivotal role. Unfortunately he was a little under-powered, and his duets with the powerful Beckmesser of Warwick Fyfe were very lopsided. One cannot imagine a better Beckmesser.
German Stefan Vinke was the heroic tenor, Walter von Stolzing. He had the voice for the role and produced some exciting sounds, but sometimes the voice tended to wobble.
The find of the night was young Nicholas Jones as David. His clean, bright tenor was a constant delight and his acting was strong. Natalie Aroyan sang beautifully as Eva and was well complemented by Dominica Matthews as Magdalena.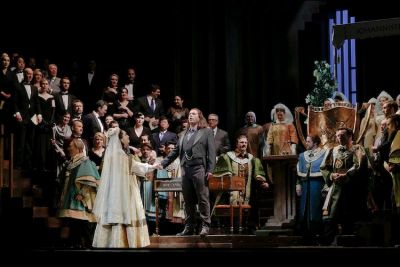 From the large contingent of Meistersingers, Daniel Sumegi as Pogner and Luke Gabbedy as Kothner impressed with their powerful voices. Adrian Tamburini made a strong impression as the Nightwatchman.
The modular set was impressive and multi-layered. However, I found it strange that the same set was used for the first two acts when one is inside and the second outside in the street. The second act opened with Sachs and Pogner sitting at a table together. Sachs goes inside and then Pogner asks whether Sachs might be inside!
The opera is set at midsummer, and it was quite a coup to have the apprentices riot in costumes from Shakespeare's Midsummer Night's Dream! The set was doing cartwheels with a couple of singers hanging on for dear life. The nightwatchman appeared at the end of the scene as a Minotaur. It was exciting.
This was a high energy, wonderful night at the opera.
Graham Ford
Photographer: Jeff Busby