Expressions Dance Company. Cremorne Theatre, Queensland Performing Arts Centre (QPAC), Brisbane. 10 - 18 May, 2019 and touring.
If you've ever been to a social gathering where you've felt a bit awkward or out of control, you'll relate to The Dinner Party. The action takes place around a large table, commandeered by elegant hosts played brilliantly by Jake McLarnon and Lizzie Vilmanis. This (maybe) husband and wife team assemble their equally chic guests and proceed to manipulate the conversation and action – as much as they can – before the natural instincts of the guests take over and each command the stage for their own showcase dance piece, ingeniously choreographed by internationally renowned Natalie Weir. The dance style puts the cast through their paces in a very physically challenging display of movement styles.
The cast of characters includes Josephine Weise as a nervous girl, pushed by the host into a match with handsome guest, played by Bernhard Knauer, whose charm could rival the host's hold over the group. They pair up and dance a duet of quirky seduction. A more confident young girl – played by Isabella Hood – innocently (at first) fancies the host and spends her time trying to beguile him before his wife reappears on the scene.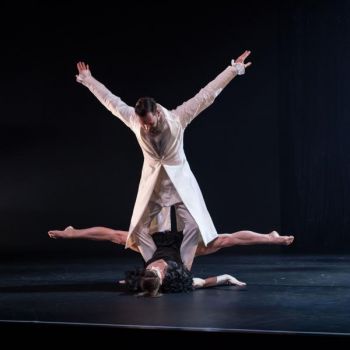 In a crowd-pleasing comic turn, Jag Popham plays a young man who, eager to fit in, chops and changes his opinions to suit the mood, swaying whichever way the conversation is going. His wishy washy persona is cleverly portrayed by the choreography that has him manipulated by the host as puppet master. The handsome guest tries to take over proceedings before the husband and wife reconcile with the group – but has the natural order been restored or torn asunder?
The enticing quality of the dance is enhanced by gorgeous costumes by Brisbane-based designer, Gail Sorronda. They flow and move with the dancers – enduring some very physical moves – and are a joy to watch, especially in the evocative lighting courtesy of Ben Hughes. The dance is to crisp classical music provided by the accomplished Southern Cross Soloists (SXS) – it would have been lovely to have the ensemble live on stage, but the ongoing touring plans necessitate live recording instead.
The Dinner Party displays an array of assembled talents, with a cast from a variety of backgrounds – from local dancers who started out in Toowoomba and Hervey Bay to those trained in Europe.
Following their season in Brisbane, Expressions is taking The Dinner Party on the road across QLD, NSW and NT until July. For tour dates, see expressionsdancecompany.org.au/edc/dinnerparty.
Beth Keehn
Photographer: David Kelly.