Arts House, North Melbourne Town Hall. Nov 21 – Dec 2, 2018
Have you ever wondered what it's like to be a funeral director?
Wonder no longer, this production will demonstrate in vivid detail a day in the life of a funeral director. The Director is a newly devised show, co directed by Lara Thoms and ex (third generation) funeral director Scott Turnbull.
The performance begins with Thoms dressing the corpse (Turnbull). Thoms tells us that no qualifications are needed in the death business – "anyone can touch a corpse", while Turnbull describes at length the bag of tricks (tools) required to run an efficient and safe funeral business. Patience is essential when dealing with grieving customers, organizational skills are key to running funerals on time.
Thoms, an artist/performer, tells us how the loss of both parents before she turned thirty, triggered off her morbid fascination with funerals. She met Turnbull in 2016,while curating performances in a funeral Chapel during the Dark Mofo Festival in Hobart. Their mutual understanding and humor led them to develop shows around the death industry.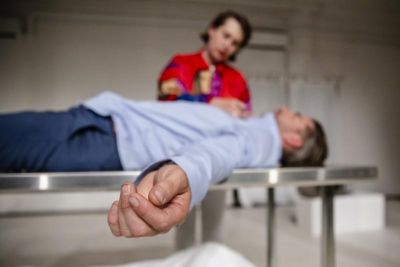 The Director is morbidly funny and yet a very sad investigation into the world of funeral parlors. It is also a confronting theatrical exploration and hats off to Thoms and Turnbull for their cleverly devised doppelganger directorial presentations.
Turnbull runs through the range of coffins and prices like a slimey used car saleman; from Toyota Callais (standard wooden box) to the Maserati (Slick gold box), he nonchalantly retells hilarious stories of the diverse range of funerals he has had to organize. Sound Design (Kenneth Pennington) is an eclectic mix that includes a clever sound piece mimicking a crematorium incinerator.
A thought provoking and challenging production!
Flora Georgiou
Photographer: Bryony Jackson