Book by Jeffrey Lane. Music and Lyrics by David Yazbek. Rockdale Musical Society (NSW). Rockdale Town Hall. March 11 – 19, 2011.
Take a good, conventional musical comedy, add a liberal serving of naughty bits, and that's Dirty Rotten Scoundrels.
The greatest joy of Dirty Rotten Scoundrels for me is seeing something new – a relatively successful American musical, which played a respectable 626 Broadway performances between 2004 and 2006, without attracting a professional production here. While Melbourne got a one-week Production Company staging, it's taken an enterprising musical society to give Sydney its first taste.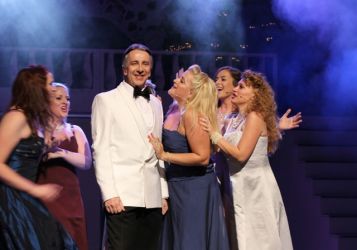 Director Jay James-Moody has come up with a lively, well-paced, attractively dressed production for the occasion.
The musical is based on the 1988 Steve Martin and Michael Caine film, featuring two con men making a living by duping American ladies on the French Riviera, and their wager to see who can extract $50,000 from an apparently sweet, unsuspecting young heiress.
A top-notch orchestra at Rockdale kicks the show off with a big Broadway sound, sustained from the opening notes of the overture to the final chord of the playout.
One qualification here. At times the balance with underscored dialogue needs adjustment, particularly one-liners delivered by ensemble members. Whether it's a question of amplification, or the need for more precise timing and projection, with an unknown show, the loss of exposition early on, and, I'm told, some nice humour, is disappointing.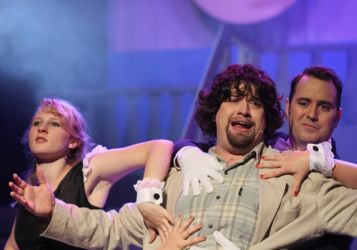 Rockdale's production features an experienced core principal cast of six.
Debonair, sophisticated, egotistical Lawrence Jameson is a role thatfits 40 year Sydney musical society stalwart Christopher Hamilton like a glove. I've rarely seen him in better form, giving a slick, assured, wry comic performance, delivering the musical portions of the role with panache, and capturing the odd vulnerable moment sympathetically.
Max Newstead's scruffy, down-market Freddy Benson provides a terrific contrast and foil. While Hamilton delivers urbane characterisation and comedy with a dash of the NoëlCoward, David Niven and Henry Higgins to it, Newstead's Freddy is a far earthier, slapstick, low comedy clown.
The chemistry in the counterbalance and repartee between these two performances drives the show along splendidly.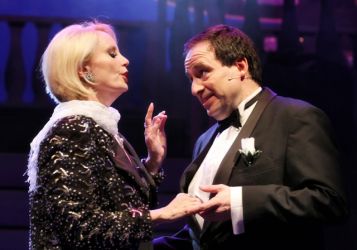 Michele Lansdown, sultry and very funny as Jameson's most recent conquest, really pulls off a very engaging mature sensuality as rich American woman Muriel Eubanks. Michele is one of the enduring treasures of the Sydney community musical theatre stage, where few can Broadway Belt out a showtune better. (A pleasing note for the future in Michele's big number 'What Was a Woman to Do' - female ensemble members made a great deal of their supporting cameo opportunities, each building a shared rolling gag to a final punch line, and terrific final cameo, that I don't wish to spoil.)
Petite, dynamic Jessica Burns combines comic and vocal talents, an acting range stretching from innocent vulnerability to bold and brazen, and a genuine charm, to make leading lady Christine Colgate appealing and engaging.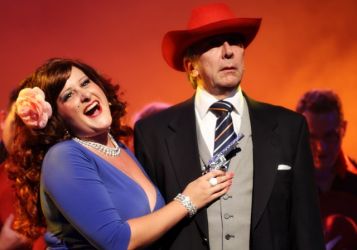 Jolene Oakes, bold and brassy as an heiress from Oklahoma, punches out her supporting role with great zest. Patricio Ulloa plays the night's more thankless role of Andre Thibault, corrupt local police officer and off-sider to Jameson, confidently and effectively.
One special feature that impressed - the show frequently calls on principals to break the fourth wall and deliver a joke to the audience, which they do impressively.
Director / Designer Jay James-Moody has come up with an effective, attractive unit set incorporating moving parts and staircases, which adapts to become most of the play's locations with most changes visible. A very familiar old-fashioned mid stage drop curtain, though, seemed to belong to a different staging convention, and brought on a case of multiple déjà vu.
Props, mostly appropriate, attractive and in period, supplemented the set, though on a stage where the audience looks up from a flat floor, miming an imaginary roulette wheel in the table top would sustain the illusion more effectively than theparty style wheel, protruding above the table, which is used.
In any set with low tech moving parts, mishaps can halt the show, and on one occasion on opening night the leading man, with great presence of mind, crossed the stage to give the set the final shove needed to get things back in motion.
Joel Duffy's choreography had an appropriately bright, lively musical comedy style, though enthusiastic performance was its strength, rather than absolute precision and drill. While energy and enthusiasm count for a great deal, tight, consistently synchronized ensemble arms, for instance, would have added the edge on a number of occasions.
Minor niggles aside, Rockdale's Dirty Rotten Scoundrels is a very entertaining evening of community musical theatre, while the show itself is a delightful, fresh addition to the repertoire.
Neil Litchfield
Images: Stuart Ford Creative