National Institute of Circus Arts (NICA). Co-Directed by Zebastian Hunter and Meredith Kitchen. NICA National Circus Centre, 39-59 Green St, Prahran. 18 - 22 June, 2019.
Dispersionis a beautifully evocative show that incorporates traditional circus arts, such as tightropes, tightwire, trapeze, straps, roue Cyr and hoops and combines them in a seamless manner with stylised movement, physical theatre and live improvisational jazz. The dazzling combination is presented as an ensemble show involving second year NICA students.
The live band features drummer Chris Lewis (former Circus Oz Musical Director), guitarist Kathleen Halloran (Kate Ceberano, Kathleen Halloran Trio) and saxophonist Dr Jenny Game-Lopata (composer). The sensational synchronicity created between the performers and the musicians is vivid and palpable. The live music brings a great dynamic to each act and contributes to creating a highly energetic performance.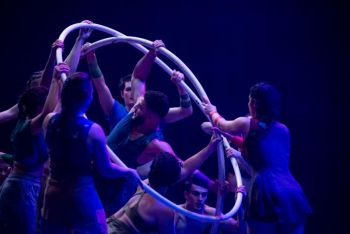 The show includes many outstanding artists, such as Manelaya Kaydos-Nitis (Flying Fruit Fly Circus), Harley Mann (Artistic Director, Na Djinang Circus) and Antonia Sassine (WAAPA), who display their skills and enormous talent with style and confidence. The cast of fifteen students creates a superb presence on stage, often exploiting synchronised movement in both large and small contexts. This often produces an impressive sense of grandeur to the sequences.
The costuming is reminiscent of a dystopian future and ties in well with the themes of connectivity, alienation, barriers and borders that are explored in the choreography. This is enhanced by a simple but clever set that always foregrounds the dynamics of the movement and the daring circus skills displayed in this splendid show.
Patricia Di Risio