"Chooky Dancers". Judith Wright Centre of Creative Arts, Brisbane. 13 – 15 March 2014
Most people know where Northern Territory is but wouldn't know where to find Elcho Island (home of the Chooky Dancers). Without You Tube you may never have heard of the Chooky Dancers. Their short 2010 You Tube video attracted over 800,000 viewers worldwide. That put the long little island just off the northern Arnhem Land coast on the map.
Elcho Island young men adapted traditional dances to embrace the western world's popular music. They do it with panache!
In this touring show, dance numbers are separated by video sections of elders and dancers who discuss how this popular style emerged. Very few locals own computers, mobile phones, i-pads etc. There are some televisions among the community however, and the young dancers study the dance styles, which they copy and magnify into energetic, cheeky up-tempo sequences that endear them to people all over the world.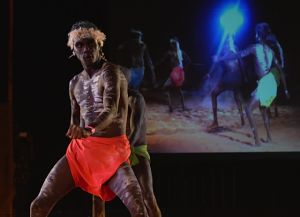 The first video they made was to music from Zorba the Greek. They now embrace hip-hop, doo-wop, reggae, disco, funk … anything with strong rhythms. Their performance with umbrellas, based on the Gene Kelly version in the Singing in the Rain film had the audience in stitches; as did the Michael Jackson solo number with dinner suit, sparkly glove, and little black hat. It was followed by a host of familiar numbers in dinner suits.
The show is a stunner, but the Brisbane performances are booked out already.
Jay McKee
Photographer: Wayne Quilliam