By Mozart. Co-Opera. Thomas Edmonds Opera Studio (SA). May 4-16, 2019 and touring.
Co-Opera is well known for supporting new talent and taking opera to regional and remote places. The company's production of Don Giovanni is no exception, travelling from Adelaide to places such as Dubbo, Penola and Roxby Downs.
Even though we know Don Giovanni as a classic, it was not a success in Vienna. Emperor Joseph II said of Wolfgang Amadeus Mozart's masterpiece: "… this is no treat for my Viennese." Of course, since then, the opera has been recognised for its genius and is part of the repertoire of opera companies all over the world.
Don Giovanni is more than just an operatic character. He is a villain, hero, libertine and everyone's favourite bad boy. Based on a figure that first appeared on stage in the 17th century, he is his own creation, subject to nothing and no one—until the opera's final scene.
The opera follows his adventures, mixing comedy, tragedy and drama with the supernatural.
In this production, director Nicholas Cannon strips the opera back to its bones and makes it approachable for today's audiences. Using a table and two chairs he is able to change sets and establish hiding places without compromising the performance space. His blocking is simple yet effective, utilising multiple exits to advantage.
His concept of setting the opera in modern times works well and gives the performers opportunity to engage with us in a way they couldn't had the opera been set in its original period.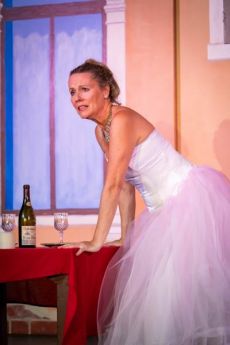 The simple street scene that splits to become Hell is designed by Chris Cannon and is effective, providing different performance levels.
Josh van Konkelenberg's reduction of the score to seven players is masterful. Thanks to his talent The Royal Commonwealth Society Ensemble provides a lush accompaniment to the singing.
I was confused with some of the costuming by Robyn Wilde, for example Donna Elvira's pink shoes seemed and sounded clunky teamed with her wedding dress.
As the Don himself, Jeremy Tatchell commands the stage with his strong baritone voice. He is controlling and demanding, with looks that leave us with no doubt who is in charge. I would have liked to see more of the rake though, as these scenes seemed tentative at times.
As Leporello, Don Giovanni's bumbling, comic assistant, Eddie Muliaumaseali'i quickly endears himself to the audience (and this reviewer) and steals his every scene. His comedy timing is faultless combined with a smooth, rich bass voice. His scene disguising himself and wooing Donna Elvira is hysterically funny.
As Donna Anna, Sarah Lambert valiantly and successfully battled a medical condition when I attended that left her unable to sing some of the arias requiring a high range. She was ably assisted by Bethany Hill (recently seen in Carmen in the Square), singing from the side of the stage. This did not mar Lambert's performance as the wronged daughter of the Commendatore.
Sarah Sweeting's Donna Elvira is every inch the jilted bride and uses her strong soprano voice to advantage when trying to win Don Giovanni back.
Jiacheng Ding is a young performer with strong potential. His Don Ottavio is solid and sophisticated. Experience and age will enable him to manage his main aria with ease.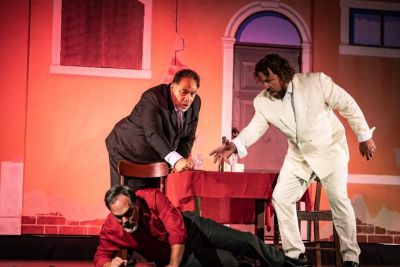 Lisa Cannizzaro's Zerlina is a delight vocally and dramatically, perfectly encapsulating a bride to be who is flirtatious but eventually loyal to her husband to be.
Rod Schulz (well known to Adelaide musical theatre audiences) makes the most of his voice and character acting skills to play Zerlina's jealous husband Masetto and quickly elicits the audience's sympathy. His energy level and ability to hold his legs in awkward positions is admirable.
As the Commendatore Joshua Rowe has the perfect bass voice to play the statue scene we all wait for. He is threatening and imposing. A little white makeup would complement his white suit to make the perfect statue.
The idea of having a chorus leader is clever and Erin Holmes works extremely hard establishing new locations and adding energy. At times though, she drew focus away from the main action.
If you haven't seen Don Giovanni before, Co-Opera's version will whet your appetite to see more opera. If you have, it will be like revisiting an old friend!
Barry Hill
Photographer: Lester Wong