By Mozart. Opera Australia. Joan Sutherland Theatre, Sydney Opera House. January 24 – February 27, 2019
Don Juan first drew lascivious breath in a cautionary moral tale penned by a Spanish monk. Four hundred years on, through the hands of a dozen great artists, he's evolved into a complex, even heroic God-defying libertine.
David McVicar's revived Don Giovanni returns him to the shadows as a soulless sexual predator, a joyless sociopath. He's played by Luca Micheletti, strong of voice, but with none of that amused, cavalier disregard of old; a Don Juan true to our feminist times perhaps, with his female victims shown clearly as just that.
His conquests are dark affairs in Robert Jones' vaulted, crumbling palace, a shadow world of quietly sliding walls and catacombs, dominated by a giant moving staircase – offering an unlikely path to redemption.
The period is post-Enlightenment, the new industrial age, with Jones cursing all the major characters to costumes of black and silver, and the only the villagers given the dull promise of greys.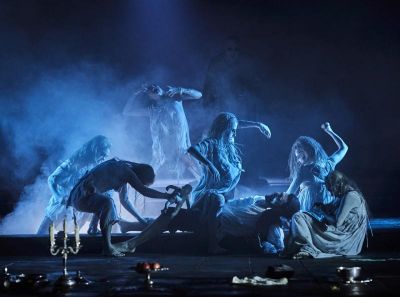 But Don Giovanni still tugs in all directions, and the comedy is well-served by McVicar's meticulous direction. Notable is the lanky Shane Lowrencev as Giovanni's pragmatic servant Leporello, and the chaos at the village wedding caused by Giovanni's abduction of the bride, Zerlina (a radiantly natural Anna Dowsley).
While David Finn's lighting is artful, some of McVicar's detail is lost in the shadows, yet some other performances still shine. Eleanor Lyons is a powerful Donna Anna, desperate to revenge Don Giovanni's abuse and the murder of her father; and Juan de Dios Mateo brings tender authority to the thankless role of her partner, Don Ottavio.
Their human world is already so dark that the famous ending, as the dead Commendatore comes to supper and then thrusts Giovanni down to Hades, seems an unexceptional event.
Martin Portus
Photographer: Keith Saunders.