Music: Ludwig Minkus. Orchestration & Arrangements: John Lanchberry. Teatro Alla Scala Ballet Company. Choreography: Rudolf Nureyev. Choreographic Supervision: Florence Clere. Director: Frederic Olivieri. Queensland Symphony Orchestra. Conductor: David Coleman. Lyric Theatre, QPAC. 7-18 November 2018
On their first ever visit to Australia, Teatro Alla Scala Ballet Companycouldn't have had a better showpiece than Rudolf Nureyev's Don Quixote, long a favourite with Australian audiences ever since he danced it with the Australian Ballet in 1970 and later immortalized on film in 1972. With its swirling caped matadors, castanet clicking gypsies, and a succession of spectacular diverissements it's a feast of classical dance which this company execute with a grand bravura style.
The story of the wilful girl who loves a penniless barber against her father's wishes, and the couple's path to happiness helped by an errant knight, is well served by Raffaele Del Savio's sets which continually dazzled the eye. The town square choked with atmosphere, as did the gypsy camp and forest, all helped by some stunningly vibrant costumes by Anna Anni.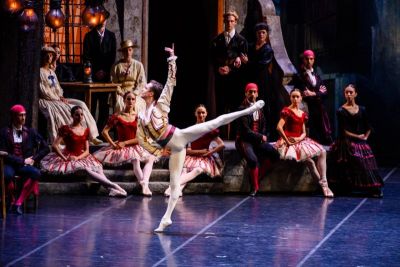 Nicoletta Manni brought a playful edge to Kitri, the besotted lover, dancing exquisitely. From the moment she did her first flawless jete across the stage we were in her thrall. A beautiful dancer, her technical spins and double turns were astonishing. Opposite her as the young swain Basilio was Leonid Sarafinov, whose performance also thrilled. Flirtatious and ebullient with a fabulous technique, his delightful streak of humour added an enormous charm to the character particularly his "death scene." Together they were the perfect matched couple, which culminated in a bravo inducing grand pas de deux.
The soloists' work was richly rewarding; Marco Agostino's Espada ablaze with fire and passion as he led the corps in an exciting flamenco and Maria Celeste Losa as the Queen of the Dryades in a shimmering moment of beauty. Giuseppe Conte's Don had gallantry and pride, Gianluca Schiavoni played his offsider Sancho as a buffoonish clown, Salvatore Perdichizzi guarded Kitra's fate with zealous zeal, whilst Riccardo Massimi's Gamache was flamboyantly foppish.
Director Frederic Olivieri kept it lively and moving, helped by the orchestra under David Coleman's sturdy baton.
Teatro Alla Scala Ballet Company are an exciting and dynamic company and Don Quixote is an exciting and dynamic production. Bravo to QPAC and their International Series which only keeps getting better and better.
Peter Pinne
Photographer: Darren Thomas