Her Majesty's Theatre, Melbourne: August 23 to September 4, 2011. Regal Theatre, Perth: Oct 12-23. Twelfth Night Theatre, Brisbane: Nov 15-27
OK, I admit it! I've always been a fan of Doris Day. Clearly I was not her only fan based on the attendance at Her Majesty's Theatre of many other adoring Doris Day fans, albeit most of them were over the age of 50.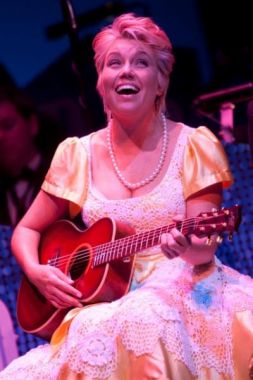 Under the slick musical direction of Michael J Harding the big band created the mood and played smoothly throughout the night. Melinda Schneider was quick to point out that she was not there to impersonate Doris Day. Rightly so, as it was clear from the start that Schneider, whilst a very talented Australian singer and songwriter, was not a Doris Day. She told us that she was there to celebrate the music and life of Doris Day, and she did! Schneider was able to mimic her vocal style, yet she did not shy away from adding her own personal touch to each song. Rohan Browne and Sam Ludeman provided pivotal support to Schneider throughout the show with sharp dancing, in sync harmonies and strong acting and narration.
Vocal highlights of the night were Que Sera, Sera, Sentimental Journey, Perhaps, Perhaps, Secret Love and songs from Calamity Jane. I enjoyed the evening's performance although I was somewhat disappointed with the choice of costuming and questioned the suitability of some particular outfits for the show. However, overall, I left the theatre impressed with the performances of Melinda Schneider and her team and appreciative of the impact that Doris Day has had on music, stage and screen.
Gabrielle Murphy
To keep up with the latest news and reviews at Stage Whispers, click here to like us on Facebook, or follow us on Twitter.