Wyndam's Theatre, Covent Garden, London. Wednesday 28th September 2011
In my more than 50 years of involvement in live theatre I can count on one hand the number of times I was really in awe at a production and its performers. Driving Miss Daisy now joins that list. We bought tickets for the second performance on the day and were lucky to get the last 2 stall seats 6 rows from the front and 4 seats off centre. Another Aussie (Star) I saw there had also bought tickets on the day and was sitting in the upper circle.
The play has transferred to London from an award winning season on Broadway with the cast intact.
Many people would have seen the movie of the same work which starred Jesssica Tandy as Miss Daisy and Morgan Freeman as the long suffering chauffer, Hoke. To make this play work on this tiny stage needed a very creative design for lighting, sound and projections and we got all three.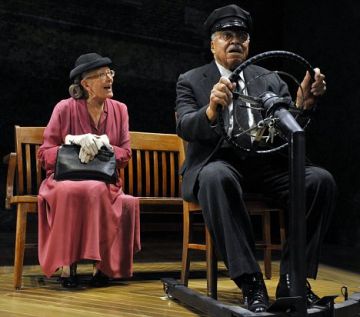 The simple nondescriptly pained box set was clever as it accented the projections that took us to different time and places and allowed for the 'car' to drive down the highway. Minimalist props were on tracks and a simple garden bench and chair on a small revolve was the car.
Now the actors! James Earl Jones as Hoke was an absolute tour de force. His use of the pause was amazing and his underplaying of the comedic had the audience in stitches. Who could be cast to match Darth Vader? None other than the legend Vanessa Redgrave. She tackled the cantankerous role with relish, with just right amount of warmth for he driver. Keeping the show linked (and changing the props) was the multi Tony Award winning actor Boyd Gaines, who played Miss Daisy's son, Boolie. I did not know him before and wondered how he would stand against the other two, but he was never overshadowed.
If this production, and cast, ever makes it Down Under, mortgage your house but get there.
Col Peet
Vanessa Redgrave and James Earl Jones in Driving Miss Daisy