By Alfred Uhry. Directed by David Esbjornson. Comedy Theatre, Melbourne. From April 6th, 2013.
I am not going to review this astonishing night of theatre. Critics across the world have been topping each other with superlatives, and even inventing new words for this production. Any extra evaluation is superfluous.
Stage Whispers has previously reviewed this remarkable production during both its previous seasons in Brisbane and Sydney.
Instead, I would like to offer a heartfelt "Thankyou" to everyone involved.
Thankyou Alfred Uhry for giving us this beautiful, understated and poignant play about love of a different kind.
Thank you David Esbjornson for your subtle and unsentimental direction; and never getting in the way of the actors. Share those thanks with John Lee Beatty for his pared back set and Peter Kazarowski for the lighting.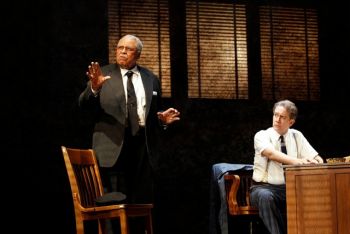 An enormous thankyou to John Frost for bringing the production to Australia. Last year was not the easiest year for you, and this play, despite its enormous success on Broadway, was a calculated risk. Australian Theatre needs your on-going commitment, and we should all be thanking you.
Thank you Boyd Gaines for your beautiful performance as Boolie; for standing back and letting two legends hold court; and understanding that Boolie is the cement in the relationship between Daisy and Hoke. You were perfect.
An emotional thankyou to James Earl Jones. You have been one of my favourite actors since Dr Strangelove and really should have won that Oscar for The Great White Hope. Thankyou for showing that even an actor of 82 can age so subtly in the course of a role that we are convinced he was a much younger man when the play started. Thank you for the charm without sentimentality, for the dignity without arrogance, and for a stage presence so luminous it could light the entire city in a blackout.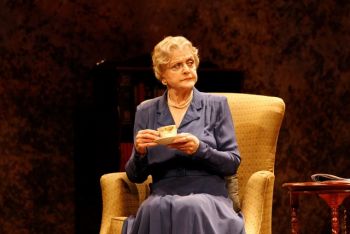 Thankyou, Thankyou, Thankyou Ms Angela Lansbury for being you. Who would have dreamed that the young soubrette who beguiled us with "Goodbye Little Yellow Bird," – feather boa around your neck and that silly hat framing the impossibly pretty round face – would be on stage some 67 years later giving a master-class in the art and craft of acting? You are a star in every sense of the word, and in every form of the actor's platform. Your last two scenes brought tears to all of us who have ever "trod the boards": not because the play was moving (it was) but because we knew we were witnessing greatness and could never be that good, no matter how hard we worked. It was an honour to be in the audience.
And so the last thank you must go to Stage Whispers for letting me become a reviewer and witness some marvellous theatre. Last night the stars came out to play…and the universe is a better place for it.
Coral Drouyn
Images: Angela Lansbury & James Earl Jones; James Earl Jones and Boyd Gaines. Photographer: Jeff Busby