By John Webster. Bell Shakespeare. Sydney Opera House, Playhouse. July 6 – August 5, 2012.
Jacobean playwright John Webster knew the older Shakespeare but shared none of his optimism in man's ultimate nobility and good reason. Webster's darker vision, captured in the hit premiere of The Duchess of Malfi back in 1613, is a relentlessly brutish view of man, instinctively violent and corrupted by power. Webster was perfectly enacted as that treacherous urchin in the film, Shakespeare in Love; the one who hunted back stage of the Globe killing rats and whinging that the plays weren't bloody enough.
Four hundred years later, Webster and his melodramatic Jacobeans are enjoying new popularity, as we pitch into another dark century, arguably again turning from reason to the banal violence of Tarantino and Underbelly.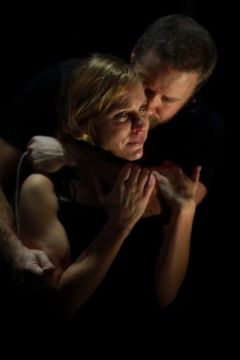 Bell Shakespeare here strips Webster's play by half to focus on the key characters. The widowed Duchess secretly marries her steward and when she bears a child, her powerful brothers, the Judge and the Cardinal, torture and murder her in revenge.
Everything ends in blood with the action squeezed onto a dark triangular set (by Stephen Curtis) served by invisible doors and nothing but a leather ottoman and huge circular light shaft. Hovering in purgatory, this is a play staged in no place or time and, cut to chamber size, without contextual clues as to why these villains act so dastardly.
While the language is clear and some performances very fine, especially from Sean O'Shea as the maddened Judge in incestuous love of his sister, the villainy remains inexplicable and the edited play unsustainable under this modern psychological spotlight. Lucy Bell is achingly appealing as the vivacious Duchess, especially when she flirts obediently to her unavoidable strangulation. But to me, this girlish victimhood left unexplored the Duchess as a powerful woman undone. Others have praised this John Bell production but I missed the Machiavellian politics and truths against a wider, worldly canvas.
Martin Portus
Photography: Rush.