Barry Humphries' Farewell Tour. Director: Simon Phillips. Capitol Theatre, Sydney, July 5 – July 14, 2012, then Melbourne, July 14 – Aug 4 and Jupiters Theatre, Gold Coast, August 25 – 31.
How much spittle can a 78-year-old generate? That was my thought as Sir Les Patterson rained down on the hapless members of the audience who sat in the front row of the Capitol Theatre for his 'farewell' tour.
The self-appointed cultural attaché was in the finest of disgraceful form - this time hosting a cooking segment in between the loudest of visits to the latrine to cope with a severe bout of diarrhoea. As you would imagine, his food hygiene was a little lacking. It was, however, perhaps a bridge too far to depart the dunny with a long piece of toilet paper caught in the back of his trousers.
The contrast between the intellect and sophistication of Barry Humphries and the base fart jokes of Sir Les is hard to get your head around. But it was side-splittingly funny.
Director Simon Phillips ingested a few helpings of show biz pizzaz into this production. There was even some good old fashion slapstick involving somersaults that you would not expect in a show starring man well past retirement age.
There was a new character also. The brother of Sir Les we learnt is Gerard. He is a paedophile priest forced by authorities to wear an ankle bracelet. It had a remarkable feature which allowed authorities to find out if his base instincts were getting the better of him.
After the brash and base of the Pattersons, on came Sandy Stone. This character is one of the more enduring of Humphries creations; an elderly man in his dressing gown reflecting on his life. He was so softly spoken that when the lights were dimmed it had the same effect on me as a hypnotist's swinging watch. A well-timed elbow from my wife jolted me out of la la land.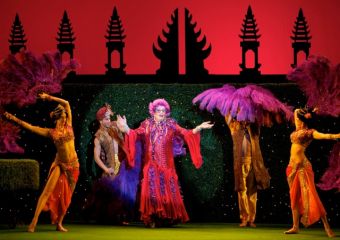 There was no possibility of a lack of attention in the second act. Dame Edna arrived onto the stage like the Queen of Sheba. On the back of an exotic looking Indian Elephant. She asked if anyone was seeing her for the first time. When a hapless member of the audience put her hand up …she got the third degree for the perceived snub.
Dame Edna noted that having new audience members allowed her to use old material.
True to form we got lashings of one the oldest gag in her book. Making fun of the 'poorer' members of the audience who bought tickets in balcony.
Perhaps they had the last laugh. They enjoyed the show with no chance of Sir Les Patterson's spittle reaching them. And in egalitarian fashion, all in the audience received a colourful gift which Dame Edna has made famous. It was a night to remember and honour an extraordinary talent.
David Spicer