Songs Matthew Sklar and Chad Beguelin, with a book by Thomas Meehan and Bob Martin. Adelaide Youth Theatre. Arts Theatre. 22nd & 23rd December, 2017.
Adelaide Youth Theatre's latest production is sure to get you in the Christmas spirit. High energy production numbers teamed with some catchy tunes make for an entertaining hour of festive fun. It's feel-good tale of an elf orphan (who is actually a human) is delightful in its execution. His journey to New York City to find his father is both comical and touching.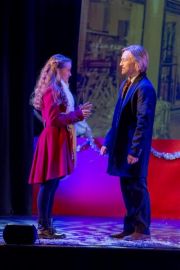 Director Alana Shepherdson and producers Emma Riggs and Kerreane Sarti have assembled a talented cast. Choreographer Holly Fennell does well to highlight strengths in individual performers and musical director Emma Knights does not miss a beat with the catchy score.
Connor Olsson-Jones owns the lead role of Buddy the elf. He oozes charisma, energy, talent and a touch of innocence. His vocals were strong and needed to be as he featured in all but two musical numbers.
Emily and Michael Hobbs were brought to life by Zali Sedgman and Miley Vincent respectively; their duet 'I'll Believe in You' was a highlight.
Set pieces were beautifully adorned with Christmas decorations and locations were projected on the back wall. Costume co-ordinator Lisa O'Donovan has chosen every variation of red and green material to dress the jolly cast. The production is truly a feast for the eyes.
Based on the 2003 movie starring Will Ferrell, this story loses none of its charm in the musical version. This fast-paced family frolic will have even the coldest of sceptics believing in Christmas.
Kerry Cooper