By Francis Poulenc. Lyric Opera of Melbourne. Chapel off Chapel. Director: Nathan Gilkes. Conductor: Pat Miller. April 18 – 21, 2013
Lyric Opera of Melbourne continues to introduce rarely heard operas to the Melbourne public and this was one of their most ambitious.
La Voix Humane in a little-known one-woman opera by Poulenc. Elle spends the evening on the phone to her former lover, who is getting married the next day. The unreliable telephone service adds to her agony.
In this performance, excerpts from two of Poulenc's chamber works, for clarinet and cello, were inserted. Instead of a full orchestra it was just clarinet, cello and piano, but that worked well in the intimate venue.
This is a tour-de-force for the soprano and Marilla Homes met every challenge without losing the beauty in her voice. More importantly, her voice was a means to express the raw emotions demanded by the composer. At times very sexy and at others writhing in anguish, every emotion of this abandoned woman was felt by the audience.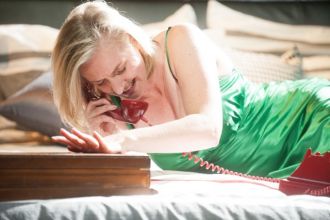 The instrumentalists (I didn't see a program) were also made up and very much part of the action, interacting with Elle and making her agony more potent. The sets, lighting and direction were excellent.
Marilla is sharing the role with Julie Torpy, who should be equally effective.
This was one out of the box for Lyric Opera and I hope the public get behind one of the operatic highlights of the year.
Graham Ford
Images: (top) Marilla Homes & (lower) Julie Torpy. Photographer: Sarah Walker