Spiegelworld. The Spiegeltent. Rooftop, Crown Casino (Vic). March 11th to April 20th, 2014.
Sometimes one standing ovation just isn't enough; so be prepared to be on your feet two or three times when you see this sensational production, which loosely sings the praises of New York City (though comic host "Oscar" [Jonathan Taylor] tells us expletively that Empire doesn't need a story like ****ing Cirque du Soleil.)
For those who haven't encountered the magic of a Spiegelworld show, let me explain that it's part circus, part burlesque, part cabaret and ALL entertainment. The Spiegeltent provides the perfect venue, full of decadent atmosphere. Taylor and Anne Goldman – as Oscar and Fanny – host the show, and their particular brand of Burlesque comedy is an acquired taste which my taste buds seem immune to. Nevertheless the audience lapped it up, complete with lashings of bananas.
The real joy in Empire though is the fantastic array of "sight"acts – a dying art before Cirque du Soleil resurrected them. There's the "glass" bubble in which Miss A (the only Australian performer – Lucia Carbines - pictured below) performs astonishing contortion feats; a startling roller skating duo – Polka Dot Woman and blue Tarpoleon (two talented Russians - pictured above) – who perform the death spiral on a revolving circular stage only 3 metres wide; a brilliant hand to hand balancing act from Ukraine – Carrot Man and Lime Green Lady; and a fabulous vocalist, Miss Purple (Victoria Matlock) accompanied by sensational guitarist Moondog (John Shannon).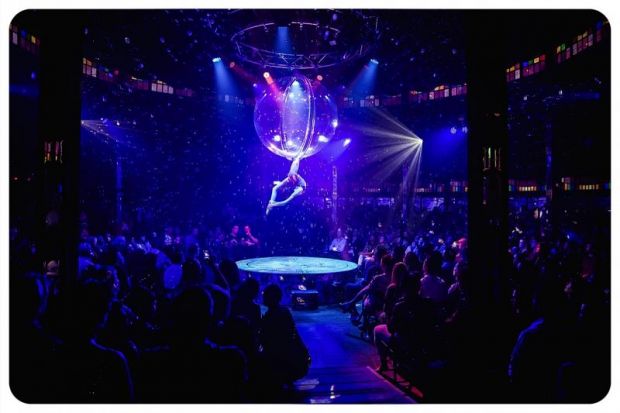 But two acts lift the quality of the show beyond merely excellent to extraordinary. The "Half Naked Dude Wearing Pigtails" – otherwise known as Yasu Yoshikawa of Japan – shows skills on the Cyr (a giant hula hoop) and the German wheel (which looks like it was made for a gigantic mutant hamster) that will take your breath away. His endearing personality makes the impossible look easy, and he performs with a tantalising combination of skill and wit. And then there is the indisputable star of the show, 3D Graffiti Guy (pictured below), who deserves all recognition for his real persona, Memet Bilgin Rigolo. This Turkish/Canadian artist woos us gently with his first act with a perpetually spinning top; but it's the finale to the show – the stunning Sanddorn Balance – which brought us to our feet not once, but twice. I've seen this astonishing act elsewhere. A feather rests unaided on the end of a branch and more and more branches are added and balanced until a giant mobile is created. I won't spoil the ending for you. Never has it been performed better, and the originator himself calls Memet a Shaman and the natural successor to his art. Even if you weren't impressed with the rest of the show (and trust me, you will be), this final offering is more than worth the cost of a ticket.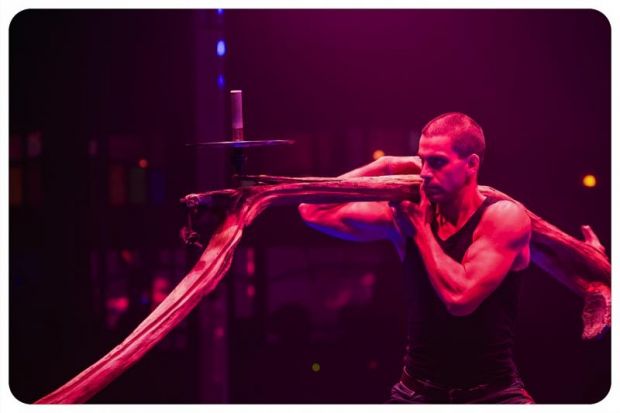 Empire is fabulous entertainment on all levels. Some claim Spiegelworld is losing its edge. Nonsense…it's just that the rest of the circus/burlesque world is catching up. Anyone who isn't swept away by the energy and magic on offer needs their pulse checking.
Coral Drouyn
Images: Karon Photography