By Joe O'Byrne. Villanova Players (Qld). The Theatre, Morningside, Brisbane, 31 August - 15 September, 2012
En Suite in the hands of Villanova came across as a slight play whose virtues were not fully realized. First produced by the Abbey Theatre, Dublin in 2002, Joe O'Byrne's work was irreverent, humorous and glib, but a piece that lacked any real heart. The fact that Samantha Tierney's production was plodding rather than pacy did not help.
In regional Ireland, Evelyn Dwyer runs a bed and breakfast with her two daughters, Ella, a lesbian, and the heavily pregnant unmarried, Emer.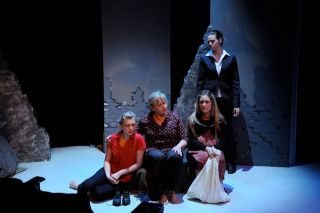 The B&B holds secrets. Ella is the result of a one-night-stand Evelyn had with a priest when she was sixteen. When Owen, Evelyn's brother, returns home to die, and confesses to murdering the priest, lives begin to unravel. Desley Nichols as Evelyn nicely captured the mother/daughter bonds but the emotional core of the character was missing. As Ella, the daughter who discovered her father, Lucy Barnes was believable. Good support came from Lara Furst as Ella's partner Clara, and Kristina Burt as Emer. Trevor Bond never managed to make Owen anything more that a self indulgent bore, but David Cannon and Helen Ekundayo were amusing as a cliched pair of German tourists.
A big production plus was the choice of music which liltingly established time and place.
Peter Pinne