Written by Margi Brown Ash. Directed by Leah Mercer. Presented by Force of Circumstance and Nest Ensemble in partnership with Brisbane Powerhouse. Visy Theatre, 28 June – 16 July, 2017
It's a brave performer who decides to do a live double-feature but that's exactly what Margi Brown Ash has done. Eve is playing at the Powerhouse's Visy Theatre on a double bill with He Dreamed a Train. In a chat leading up to the shows, Margi likened it to people who choose to participate in a triathlon. How she had any energy in the tank after putting her heart and soul into He Dreamed a Train only an hour earlier, I can't conceive. Yet there she was, leaping about the stage with the energy of a three-year-old on a sugar bender.
In Eve Margi inhabits the spirit of Australian novelist and poet Eve Langley. Part of a trilogy of works (along with Home, and He Dreamed a Train) Eve shares their themes of family, home and belonging, truth seeking, theology and myths. It's also a powerfully feminist work. Not just because Margi, in the eponymous role, is a formidable force on stage. It explores how the patriarchal expectations placed on women in the 40s were harmful to creative, free, wild women like Eve.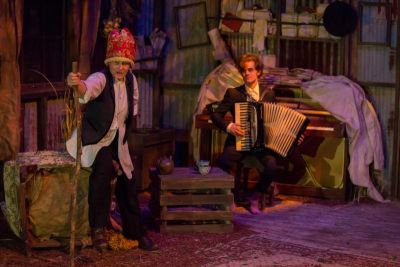 Margi plays her part in the way only a seasoned professional who rehearses her butt off can – with absolute perfection. Nuanced, committed and exciting to watch, she is beautifully supported onstage by Travis Ash. He delivers sensitive and lovingly honed performances both when acting and also when performing musically. His music and sound design excellently enhance the emotional journey of Eve and her family.
The set design by Aaron C Baton is artful. It really feels like outback Australia, with the familiar rusted corrugated iron and old tub. There's also a chaos which echoes Eve's state of mind. Bundles of sticks and paper tied with string, baby dolls and general mess lit by a warm, golden glow provided by lighting designer Geoff Squires.
Like Eve Langley, the script is poetic and eccentric but not really mad by today's standards. It's not the first time Margi and director and co-deviser Leah Mercer have brought it to the stage and the script benefits from those years of honing. Lovers of writing, literature and rebellious poets will relate strongly to the work and enjoy how linguistically beautiful the resulting text sounds. Eve is inspirational, tragic and wonderful to watch.
Kiesten McCauley
Photographer: Stephen Henry.