Musical Director: Alex Rybeck. QPAC & Qld Conservatorium Griffith University. Cremorne Theatre, QPAC. 13-14 Oct 2017
With a crystal chandelier, a hint of plush red drapes suspended on either side of the stage, and some arresting lighting pools, the Cremorne Theatre was the perfect setting for Broadway star Liz Callaway to prove she knew her way around a cabaret room. Singing theatre songs, film songs, and little bit of vintage pop, her act was basically a run-down of her prolific career and life. She certainly had the material to draw upon, having spent five years in Cats, and appearing in the original Broadway casts of Miss Saigon, Merrrily We Roll Along, Brownstone and Baby, and singing the title role in the animated movie version of Anastasia.
Callaway is a past-master at story-songs and the first one to generate thunderous applause in the set was Stephen Schwartz's lyric-soprano showcase "Meadowlark" from his under-appreciated score for The Baker's Wife. The melancholic "Since You Stayed Here" from Brownstone was another. "Journey to the Past" (Anastasia) was undeniably thrilling.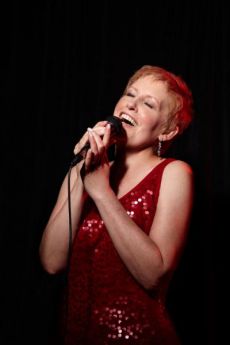 Two effective medleys coupled "Singin' in the Rain" with "Raindrops Keep Falling on my Head," while Jimmie Webb's "Didn't We" was paired with the middle-section of "Macarthur Park".
She had fun with the comic "Frank Mills" from Hair, brought the mostly-theatrical house down with a Stephen Sondheim send-up "Another Hundred Lyrics" ("Another hundred lyrics just flew out of my brain" sung to Company's "Another Hundred People" and "I'm Not Getting Married Today"), and indulged in funny audience participation with "Downtown".
Her patter had wit, especially the anecdote of her being rehearsal stand-in for Barbra Streisand's 2006 tour, where she got to sing with a 60-piece orchestra and Il Divo.
Callaway has spent the last week doing master classes with the Conservatorium musical theatre students (many of whom were in the audience), and she gave one of them, Shubshri Kandiah, the chance of a lifetime to sing Miss Saigon's Kim and Ellen duet "I Still Believe" with her. It was an emotional moment for muse and student.
Callaway closed the set with classy readings of "People" (Funny Girl) and "Memory" (Cats), then encored with her signature song "The Story Goes On" from Baby.
Accompaniment was by a three-piece group led by musical director/arranger/pianist Alex Rybeck, whose piano-charts were always intriguing and original. The whole evening was intimate, folksy, and a totally pleasurable experience.
Peter Pinne
Lower image by Bill Westmoreland