By Benedict Andrews. Belvoir (NSW). March 24 – April 29, 2012.
It's a truism that directors shouldn't direct their own plays. Benedict Andrews has a fine record of directing dangerously thrilling theatre in Adelaide, then Sydney and now Europe – enough it seems for Belvoir to give him both the stage and the director's reins for his first produced play. It's a misplaced faith.
Every Breath starts with the promising premise of a privileged artistic family employing a security guard against unseen, unexplained terrors from outside. As the couple and their teenage twins dine poolside, the silent guard of curiously uncertain gender tries to keep his/her eyes on the horizon.
This becomes near impossible as each family member sets to seduce him/her – rather like the family pouncing on the handsome lodger in Joe Orton's outrageous 1970 farce Entertaining Mr Sloane.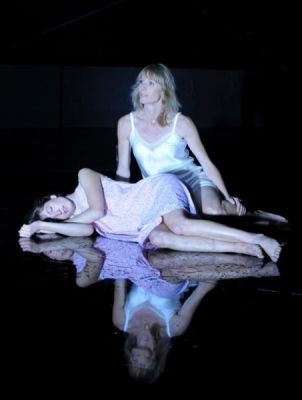 The early promise of Every Breath was the yearnings beyond the sexual, as each family member reaches out to fill some spiritual, artistic or generational void on this poor blank page of a guardian angel. The promise soon evaporates.
Despite all the naked poolside humping, as director and writer, Andrews fails to flesh out his characters or drive on his metaphor.
John Howard gives a powerfully disinterested performance as the writer dried of inspiration and, as his restless wife, Angie Milliken has even less to play with. The precocious twins (Dylan Young and Eloise Mignon) are more believable in their obsessive quest for a piece of the action.
As the guard, Shelly Lauman soldiers on, compliant, charismatic in her androgyny, and ultimately discarded by this family of privilege. The play is finally an empty vessel which blows most hollow as Andrews elevates the obvious.
There may have been less onstage wanking with Joe Orton but he had more laughs.
Martin Portus
Images: (top) John Howard and Shelly Lauman & (lower) Angie Miliken and Eloise Mignon. Photographer: Heidrun Lohr