By Eugene Ionesco. Translation by Neil Armfield and Geoffrey Rush. Directed by Emma Sproule. Dionysus Theatre Company. McClelland Performing Arts Centre (Vic). Oct 5th – 13th, 2012. – Fridays and Saturdays Only.
Last night I was present at the birth of a new theatre company. Many are born, but some are sickly and die in infancy. Dionysus, however, is a strong, healthy and beautiful baby – conceived in love and passion for theatre. Its mother is Emma Sproule, an exciting young director and winner of last year's Victorian Drama League award for Best Director of a Comedy, and the birth was an exciting and joyous occasion.
Exit The King is a bold choice for an inaugural performance. It's a difficult play because in so many ways it's metaphoric and allegorical. Ostensibly it's about the inevitability of death, and acceptance, and knowing when to let go. The King is dying, the kingdom is crumbling – only when he lets go can the rebuilding begin. (Over a late night cuppa we discussed how it may also be a metaphor for God and all he created, and how we stopped listening.) Not all potential audience members, especially in a suburb like Frankston, where absurdist comedy is often more serious than real life, will be drawn to it! For Ionesco is not flippant; he examines great issues in depth, especially exploring his own mortality fears. But he realises that the greatest path to understanding tragedy is through comedy. The world needs to laugh, especially now – and laugh we did. The yardstick for me is my husband who LOVES great theatre, but hasn't responded to anything I have dragged him to this year… until last night. I have never seen him enjoy anything more. This was a wonderful, stimulating night of community theatre,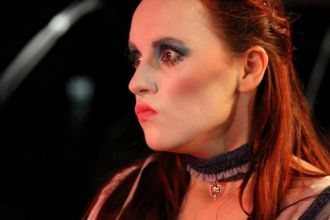 Emma, faced with a space which is unimaginative in the extreme, decided during rehearsals to move the cast OFF the proscenium stage and block everything (and brilliant blocking it is) in front of the wall of rehearsal mirrors….seating the audience facing the mirrors. It creates, but goes even further than, a classic theatre in the round. The set is minimalist….A throne, some gothic door frames, nothing to distract from text or performance. The result is magical – the audience sees themselves in the mirrors throughout; we're included in the action. We are the king's subjects whom he begs to hear him. Emma has expanded on the "business" suggested in the text so that even the tech crew become part of the kingdom when they revolt and start throwing the set around! There are so many great choices by this director.
Zoran Babic is remarkable as Berenger, The King. Absurd and pitiful, denying mortality, endearing and lascivious, his Berenger gives us glimpses of the powerful man who was….the king who stole fire from the Gods. It's a stunning performance and a wonderful marriage of actor/director/theatre company; small wonder that he has won awards for his community theatre roles. I feel privileged to have seen him and will remember the poignancy of his death for a long time. Only long afterwards did I remember, oh yes….Geoffrey Rush played this part!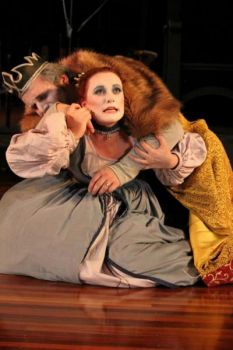 Matt Allen, as the doctor and various others, is a suitable foil. An actor of great focus, he firmly centres the king without detracting from him. It's a well measured performance throughout.
Beck Benson as Juliette, the hard-done -by and complaining servant, as well as the nurse, would no doubt make a bigger impression in lesser company, but is a little swamped in this cast. More projection would certainly help her cause, even throwaway lines (asides) still need to be heard. Jesse Thomas as The Guard fully deserves that entry into WAAPA that he is pining for!
And, in this theatrical feast, the dessert is worth waiting for. Two young actresses, one 20, one 21, defy the laws of astronomy and are born into the firmament as fully fledged stars. Annabelle Tudor plays Margueritte, the older pragmatic and manipulative queen, whose line "we have not the time to take our time" forms the axis for the ideas within the play. She is a commanding presence, a huge queen whom it would be wise not to cross. She owns the performing space (and the King himself, though he doesn't realise it) and is perfection in composure even when she is offstage. Such charisma doesn't come along very often. When I met her afterwards I was astonished to meet a tiny slip of a girl, extraordinarily pretty and with a luminescence that makes her seem larger than she is. I've only ever seen that before upon meeting Judy Davis. Annabelle is truly someone to watch. If there is any justice in theatre she will go right to the top, and this is only her second play ever, without any training. Barely one step behind her is Amelia Hunter as Queen Marie, the young queen who is afraid to let her husband die. She's beautiful and expressive, with great physical grace and a wonderful feel for absurdist comedy. She is ditsy and endearing and her Marie is so annoying in her histrionics that you want to slap her.
Despite the quality, and the quest for excellence, Dionysus needs community support to grow and prosper. So please, first go and see this production – you'll then be hooked as I am. Think of it as medicinal even if you are wary at first. Ionesco said, "The living are getting rarer"; All the more reason to let laughter prolong your life.
Coral Drouyn
Images: (from top) Zoran Babic as Berenger the First; Amelia Hunter as Queen Marie; Zoran Babic and Amelia Hunter and A King and his queens…from L to R Annabelle Tudor , Zoran Babic, and Amelia Hunter. Photographers: Beck Benson and Felicity Holt