By Tyler Jacob Jones and Robert Woods. Director: Tyler Jones. Hackett Hall, Floreat (WA).. August 24 - September 8, 2012.
This brand new show with book and lyrics by Tyler Jacob Jones and music by Robert Woods was directed and musically directed by the same pair. Funny, daring and controversial, it was great fun to watch, with lyrics and one-liners that get stuck in your head. (As I write this I can hear my daughter singing one of the songs.)
Taking a satirical look at reality TV stars and their subsequent careers, it takes gentle pokes at a plethora of people and although the comedy is unnervingly crude at times it is never cruel and always appropriate in its context.
We follow the amazing Divalettes as they attempt to revive their post competition careers. Sweet but talentless Salli-Ann was sweetly played by Maria Velletri; fat Feliciabel was beautifully voiced by Kimberley Harris; Breeahn Jones was very strong as bitchy lead singer FonDue, while Claire Taylor, who has the least to say, deftly stole scene after scene as hapless Tonya.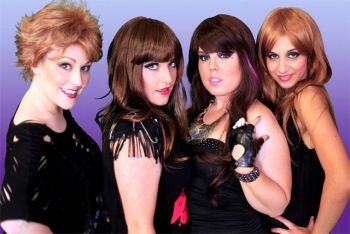 The supporting cast were outstanding. Jess Dowson's Angela Slagmeyer was part narrator, part commentator and part integral plot point, while the girls' managers, sweet as sprinkles Brian, (the lovely Chris Bedding) and exceedingly ambitious Spicy Lamangino (an energetic Manuao TeAotonga) were fabulous contrasts.
A tiny ensemble in the form of David Grey and Joanna Tyler, played many other characters and were an excellent support to the cast.
Terry McAuley's costumes probably broke a record for a minimum of fabric used, but were wonderfully evocative, while Tyler Jones' set design was well executed by newcomer Noel Herbert and David Hardie.
Falling to the Topis a really funny new musical that would transfer well to other companies. Music and book are clever and the subject matter very topical and a change from the usual fare.
Kimberley Shaw
Images: Claire Taylor, Kimberley Harris, Breeahn Jones and Maria Velletri are The Divalettes.