By James Lapine and William Finn. StageArt / Midsumma Festival. Chapel Off Chapel. February 1 - 11, 2018.
A cult classic! Falsettos is a superbly entertaining musical presented by Stage Art productions. It is an original and award winning musical written by William Finn and James Lapine, about a dysfunctional yet loving New York Jewish family, set in late seventies with AIDS crisis looming. It is a timeless musical that delves into the need and quest for love and understanding.
Falsettos will exhilarate and entertain and offer you a musical emotional roller coaster ride. The songs are soul-stirring, melding dialogue into song - a tricky device where conversation converts into a musical number. Tyran Parke's direction and Madison Lee's choreography are seamless, as we see in in the "March of the Falsettos", a song and dance routine about men trying to grow up.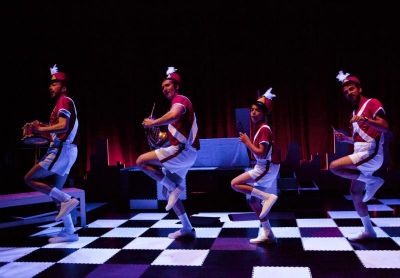 The show begins with Trina (Sarah Shahinian) who has just discovered her husband is in love with a caddish young gay man. Shahinian gives a dizzying and hilarious performance in "I'm Breaking Down" and in her playful rendition of "I'm tired of all the Happy Men", whilst berating herself for loving them, is moving and entertaining. The song and dance routines ooze a vaudevillian style with a distinctive New York flavor. Full credit to David Butler who is a real whizz on the piano. The set is reminiscent of the Manhattan skyline.
Marvin (Don Winsor), the husband who expects everyone to succumb to his own needs, is foppish and hilarious. Mendel (Nick Simpson-Deeks), the family psychiatrist, a lonely recumbent Jewish man seeking love, gives a stupendous performance with flawless flair. Overall praise to the entire Falsettos team who were all exquisite in their timing and performance.
With its eternal themes and catchy tunes, Falsettos will leave you singing with the gang long after the show has ended.
A must see!
Flora Georgiou