Adelaide Festival /Ex Machina. Her Majesty's Theatre. March 2nd - 7th, 2018
Ex Machina formed in 1994 under the direction of Robert LePage. This Canadian born writer and director wanted to form a company that incorporated the creativity of actors, technicians and designers alike.
Incorporating the use of objects, places and memories has meant the artistry is not limited by the text. The Far Side of the Moon has been touring worldwide since 2000. Its universal themes allow for the story to be enjoyed by all ages, whether one lived in the era of the beginnings of space travel or you have simply grown up with a genuine curiosity of the universe and our place in it.
Sibling rivalry has never been so poetic! The incredible talents of LePage and his company of revolutionaries will leave you begging for more. His creativity knows no bounds as he uses every material at his disposal, including the wonders of multi-media, to breathe life into this absorbing story.
Philippe and Andre are two very different brothers. Philippe is trying to achieve recognition for his thesis on the effects of space travel on popular culture, while Andre is content to be the local weatherman, which affords him a house in the mountains. One is frustrated and reserved and the other is loud and materialistic, but what bonds them in this tale is the recent death of their mother.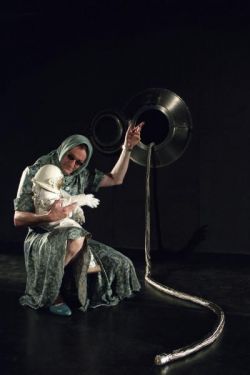 The need for them to recognise their place in each others' lives produces moments of comedy and pathos.
Cleverly written, two different stories mimic each other; the race and rivalry between America and the Russians to inhabit space and the contest between two brothers with conflicting ideologies.
The roles of the brothers are played by Yves Jacques. His performance is nothing short of extraordinary. It is hard to believe you are witnessing a one man show. Each character has depth and his use of accent and line delivery never allows for any confusion.
It is as though the audience is witnessing a well-choreographed dance, as scene changes flow on a set that is not unlike a rotisserie; mirrored on one side, it allows for a unique perspective on the action.
Lighting and projected footage of past space endeavours help to transport one to a time where the world's curiosity was infinite. Puppetry and props are ingenious! Who knew an ironing board could double as a moped?!
Is it possible that our fascination with space travel has diminished? Are we so absorbed and sheltered by our own existence that we never ponder the bigger picture?
If this is you, then the privilege of sitting in the audience of this polished production should surely alter your perspective.
Kerry Cooper