Presented by Form Dance Projects and Riverside. Lennox Theatre, Riverside Parramatta (NSW). Heats 14 & 15 Nov, Final 17 Nov 2012.
More than a hundred young choreographers and dancers competed in this year's installment of Fast + Fresh Dance, resulting in 15 short dance pieces being performed at Saturday night's Gala Final. Artists aged under 21 travelled from as far as Inner Sydney, the Blue Mountains and the Central Coast to be a part of this exciting project in it's fifth year.
The evening's MC, Hannah Bath, was charming and entertaining. She showed passion for the competition, and set the tone perfectly. The Lennox Theatre at Parramatta Riverside, was the ideal location for the event, its intimate vibe allowing the audience to hear the dancers breathe and see them sweat.
The award for Most Outstanding Choreography went, deservingly, to Isabelle Leonard for her performance art-inspired piece Silk, performed by a breathtakingly strong ensemble of women including herself, Anabella Sammut, Cristina Commisso, Sharlene Roberts and Rebecca Dewar from the Central Coast. Silk explored stillness and strength with clarityand hauntingly beautiful simplicity.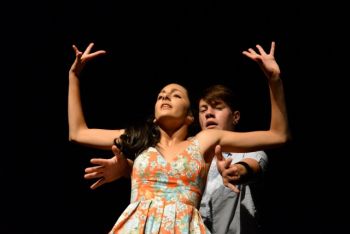 The Audience Choice Award went to Maria Esquivel for her contemporary duet I'm Not Yours, danced by herself and high school friend, Brett Hartnett (pictured right). The St. Columba's High School students explored the complexity of relationships with such maturity and gave us a unique routine that had a real impact.
A mention must go to William Keohavong (pictured at the top of this review) who drew on his personal experiences to choreograph Ben, a real-life ugly duckling tale. William used a narrator speaking as his music, and pulled the heartstrings of the audience in the true story of his overcoming adversity.
Other stand-outs included Kirralee Mulley in her mesmerising piece Les Demoiselles D'Avignon, along with her dancers Sarah Banks, Rebecca Ferraro, Gianna Petracic and Julia Holmes, Kei Ishii and Demi-Jo Manalo with Kei's heartwarming piece You, and Michael Northey in his self choreographedPotestas.
The talent on display at Fast + Fresh Dance 2012 Gala Final in terms of both choreography and performance was absolutely enthralling. The opportunity for these young people to get out there and share their creative muscles with the world is a must that I very much hope continues for years to come.
Jessica Lovelace
Awards:
Most Outstanding Choreography: Silk (Choreographed by Isabelle Leonard. Danced by Isabelle Leonard, Anabella Sammut, Cristina Commiso, Sharlene Roberts and Rebecca Dewar.)
Best Male Dancer: William Keohavong (Ben)
Best Female Dancer: Demi-Jo Manalo (You)
Best New Talent: Brandon Atoui (Unknown Fear)
Audience Choice Award: I'm Not Yours (Choreographed by Maria Esquivel. Danced by Brett Hartnett and Maria Esquivel.)