By Charles Gounod. State Opera of SA. Adelaide Festival Theatre. August 22 - 29 2015
The curtain rises to a dimly lit stage that mirrors the mood of aged philosopher Faust, who is contemplating suicide. He calls on Satan to end his misery and so begins an evening full of sin, religion and consequences. Relinquishing his soul to the devil in the vain hope of finding love with a young Marguerite, his hedonistic ways cause an avalanche of pain.
This opera has been capturing the imagination of audiences since its 1859 Paris premiere. Sacrilegious in its day, most opera houses gave it a wide berth. Director Bruno Ravella and his creative team have produced a visually stunning look at the relationships that make us vulnerable and the judgment bestowed upon us by society and ourselves as we struggle with desire and weakness. A grim and sometimes cruel cross-section of humanity.
Set designer Charles Edwards frames the action beautifully with his grey stone abodes on one side and his enticing Parisian theatre balconies on the other, his attention to detail beautifully demonstrated in the gothic church scene. Costumes by Brigitte Reiffenstuel are both provocative and alluring, but she does well to create the divide between the towns-folk and characters manipulated by Mephistopheles. Lighting intensified individual scenes beautifully, adding to the overall mood.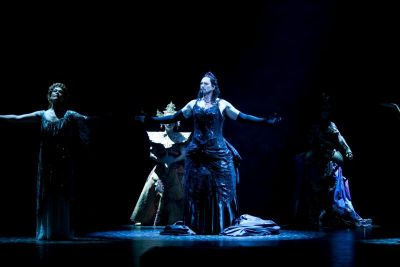 Handsome Faust (James Egglestone) does a fine job as the easily manipulated suitor of Marguerite, demonstrating his tenor voice with aplomb. Evil puppeteer Mephistopheles (Teddy Tahu Rhodes) gives a sublime performance as the devil. Planting innuendo and causing distractions to aid in his quest to satisfy his needs, Rhodes' bass tones resonated through the theatre commanding attention as he lurked from scene to scene causing destruction. Kate Ladner gives an unblemished portrayal of naïve Marguerite. Her torment is evident and moving as she struggles with her choices. The chorus has a French military flavour and add depth to an already absorbing tale. Lovely individual characterisations connected the players in a way only opera can. The role of Valentin was beautifully acted by Michael Honeyman, but due to illness his part was sung by Jeremy Tachtchell; a situation that could have been a distraction was professionally executed. Mephistopheles offers up visions of Faust's life in the form of a demonic ballet in Act 5. This was un-nerving and absolutely stunning.
Under conductor Kynan Johns the cast give voice to an impressive score; breathing life into beautiful arias and duets.
Although written so long ago the story shows some relevance in today's world. Magnificently interpreted with sinister under-tones, Faust is a dark tale that leaves one affected.
Kerry Cooper
Photographer: Lisa Tomasetti.