An Adaptation by Michael Gow. QTC and Bell Shakespeare. Director: Michael Gow. Brisbane Powerhouse Theatre. May 30 - June 25, 2011. Sydney Opera House - June 30 to July 24.
Michael Gow rightfully calls his new version of Faustus an adaptation. He has borrowed significant sections from many earlier works on the theme – plays, books, music, song, ballet –and artfully cobbled them together into an enjoyable and thought-provoking piece of theatre.
He uses Shakespeare's construct – break up dramatic, action or passionate scenes with bawdry or comedy to keep the groundlings entertained. I agree that works (in Shakespeare), but the sudden style switch jolts at times here, especially since Gow's play doesn't have one separate group of comic characters.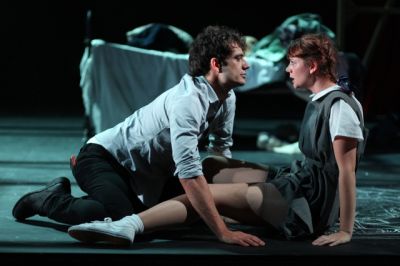 The introduction of Gretchen, Goethe's symbol of innocence, to the Marlowe version produces a storyline resonating strongly with modern lifestyles: self obsession, material possessions and sex (lust).
Cast, designers and crew all breathe life and relevance into Gow's script.
Ben Winspear as Faustus is young, easy on the eye and vulnerable to an offer too good to refuse; while John Bell (Mephistophilis) presents as an urbane, grey-suited, slick and plausible con man. His delight in Faustus's moral deterioration is deliciously low key.
How many people from your own circle of acquaintances do you recognise already?)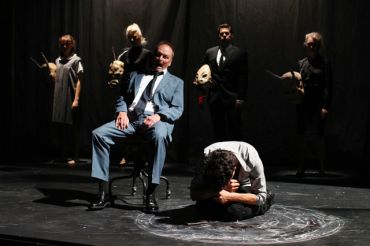 Kathryn Marquet (Gretchen) is a model of sweet virginity. Her seduction and ultimate destruction by Faustus is a real tragedy.
The other three actors, Jason Klarwein, Vanessa Downing and Catherine Terracini, principally Lucifer, Hecate and Belzebub respectively, also play multiple supporting roles to good effect.
Jay McKee
Images: From Top - Kathryn Marquet and John Bell; Ben Winspear and Kathryn Marquet; L-R background Kathryn Marquet, Catherine Terracini, Jason Klarwein Vanessa Downing & foreground: L-R John Bell and Ben Winspear.
To keep up with the latest news and reviews at Stage Whispers, click here to like us on Facebook, or follow us on Twitter.