By Jane E. Thompson. Theatre Works (VIC). Director: Alice Darling. Producer: Julia Truong (J.T. Production Management). Set and Costume Designer: Yvette Turner. March 28 - April 8, 2018
As part of the Theatre Works 2018 season, Fierce asks: Can women be good enough to compete in male sports?
Fiercetackles not only the position of women in sport but also the way women's sports get sidelined.
After all, when was the last time we had a public holiday for the Grand Final of the women's league?
Suzie Flack (Ellen Marning) wants to be judged on her sporting prowess, not her gender. In footy, however, skill is not enough. You need to take a pounding.
Being good enough just isn't good enough.
Ellen Marning sells the character of Suzie Flack: aloof, independent, strong, confident; yet also vulnerable.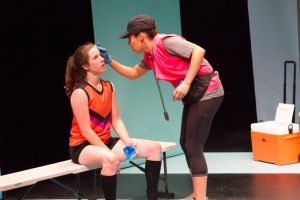 She's supported by an ensemble of young male actors who have the right physicality: muscular, fit, good-looking. They flesh out their roles as footy players or escorts (as played by John Shearman).
Whether as the coach or Suzie's dad, Syd Brisbane stood out for his intensity and vulnerability.
The artsy St Kilda set will love this play. You'd need traditional thinkers for Fierce to be controversial.
Daniel G. Taylor
Daniel G. Taylor has written for Stage Whispers since 1994 and lives in Elwood, Victoria, where he works as a mental health copywriter. Learn more at danielgtaylor.com.